Heather Heyer's mom: Daughter's death in Charlottesville forced white locals to reckon with racism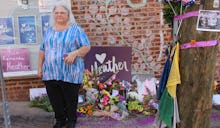 CHARLOTTESVILLE, Va. — Susan Bro, 61, was greeted with hugs and well wishes from strangers Friday morning as she spoke to reporters from the street named after her slain daughter, Heather Heyer.
The late 32-year-old anti-racist activist was killed during the Unite The Right rally on Aug. 12, 2017, after a Dodge Challenger driven by alleged white supremacist James Alex Fields Jr. plowed into a crowd of anti-racist demonstrators, which also injured at least 35 other people.
"[Heather's] best friend called me to tell me that she had been hit," Bro said in an interview with Mic. "I didn't know what had happened. I drove to the hospital. The hospital kept saying, 'We don't have a patient by that name.' It took a while for them to confirm that it was her and she was gone."
Since that day, Bro has tried to honor her daughter's memory by taking up the anti-racist cause she died fighting for.
"I asked when Heather died that people try to make her death count and individuals are doing that," Bro said. "But there's so much more we need to do. Systemically, not a lot has changed in Charlottesville or in the country the last year. We've got to continue to focus on the issues."
This weekend marks one year since roughly 250 neo-Nazis, Ku Klux Klansman, members of the so-called alt-right and their supporters descended on Charlottesville for a rally that awakened many Americans to the renewed prominence of white supremacy.
But Charlottesville has long been a symbolic microcosm of American racism and its contradictions. The town is home to the University of Virginia, whose founder, Thomas Jefferson, once opined against the evils of slavery while owning more than 600 slaves in his lifetime and designing the university as "an institution with slavery at its core."
"Jefferson's architectural plan ... created distinct zones for the students and for the enslaved," reads a July report from UVA on the school's history with slavery. During the late 19th and early 20th century, UVA became a bastion of racist scholastics, too, with courses on eugenics and "white supremacist thought," according to the report.
Virginia is also home to the former capital of the Confederacy, whose battle flag has become one of the most intractable symbols of white supremacy. Charlottesville City Councilman Wes Bellamy faced virulent opposition in February 2017 when he introduced a bill to remove the statue of Confederate General Robert E. Lee that still stands in the city's Emancipation Park.
"It wasn't even about the statue," Bellamy said during a recent interview. "Taking down a statue doesn't make people so infuriated that they come down here with AK 47s and machetes and big swords and shit, and kill someone. What they were upset about was there's a black young nigger who's trying to take away and ruin everything about our city. They believed this community belongs to them."
When the Black Lives Matter movement was at the center of national debate in 2014 and 2015, Bellamy recalled black Charlottesville residents drawing attention to over-policing and racial inequality in their town.
White locals often dismissed their complaints, he said. That changed after the Unite the Right rally.
"There's been an awakening," Bellamy said. "A lot of white people, when I first started saying we need to move these statues, were so upset. White and black people here were saying I was just stirring up trouble. Now their tune has changed. They're like, 'Oh yeah those statues need to go today.'"
City council meetings that once drew 15-20 civic-minded citizens are now filled to capacity, according to Bellamy. The city elected its first black woman mayor, Nikuyah Walker, in January.
"We've ripped off the scab of white supremacy and racism in the community," Bellamy said. "Now we're doing the deep surgery work. You don't heal from a deep wound over night. It takes time."
The healing continues this weekend as the rally's one year anniversary approaches. An interfaith ceremony is scheduled to take place at 3 p.m. Saturday, followed by an anti-racist rally on the University of Virginia campus Saturday night.
The Rev. Al Sharpton is scheduled to speak at Charlottesville's Mount Zion First African Baptist Church Sunday morning — mere hours before Unite The Right organizer Jason Kessler is slated to host a so-called "white civil rights rally" in Washington, D.C.'s Lafayette Park, which is across the street from the White House.
The National Park Service on Thursday approved Kessler's permit to hold the rally with up to 400 demonstrators. A coalition of approximately 1,400 counter demonstrators, led by Black Lives Matter D.C., will host their rallies at noon and 2 p.m. before standing in opposition to Kessler and his followers later that afternoon. Antifascist demonstrators — including members of Smash Racism DC — are expected to be among the counterprotesters.
Susan Bro says she won't be in D.C. Sunday, but expressed solidarity with the anti-racist activists. She credits last year's events in Charlottesville and imagery and information disseminated via social media with forcing white America to confront the country's racist past and present.
The information was out there before the Unite the Right rally, she added. But seeing Nazis march brazenly through the streets of Charlottesville, doling out fear and death while emboldened by a president they viewed as their champion, has brought it into even starker relief for many whites.
"There's more acknowledgement of what the black community has been struggling with and working on," Bro said. "Sadly, it took a white girl dying before more people started paying attention."