Charlottesville activists defend Antifa's "active self-defense" tactics ahead of Unite the Right 2.0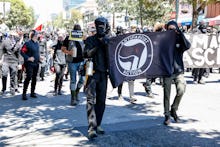 CHARLOTTESVILLE, Va. — Antifascist activists commonly referred to as "Antifa" were credited with protecting peaceful protesters from violent neo-Nazis and Klansmen at the first "Unite the Right" rally in Charlottesville, Virginia, almost a year ago to date.
But since then, the militant "No Platform" tactics used by the loosely connected network of local antifascist demonstrators in cities across the U.S. have drawn scorn and criticism not only from reliably conservative pundits like Tucker Carlson, but also from mainstream media outlets and even some progressive politicians.
Hundreds of members of the so-called "alt-left" are expected to be among the estimated 1,500 counterprotesters descending on Capitol Hill Sunday to once again stand in opposition to a Jason Kessler-led white nationalist rally, dubbed Unite The Right 2.
This time, the two opposing groups are anticipated to clash near Lafayette Park in downtown Washington, D.C., directly across the street from the White House. It's a symbolic setting for a figurative culture war that's been gas lit by President Donald Trump and has become all too literal on multiple occasions.
Police in Portland, Oregon, did their best to keep things peaceful on Aug. 4 when antifascist protesters tried to shut down a free speech rally organized by libertarian activist Joey Gibson, his conservative group Patriot Prayer, and members of the Proud Boys, an alt-lite activist group led by Gavin McInness, whose Twitter account was shut down Friday ahead of the Unite the Right anniversary rally.
The resulting downtown Portland street brawl ended with at least four arrests and one person being sent to the hospital a week ago.
Antifa activist and former East Bay College philosophy professor Eric Clanton recently was sentenced to three years probation after he notoriously bashed a pro-Trump demonstrator over the head with a bike lock during a free speech rally at the University of California Berkeley back in April 2017.
Five days ago, antifascist demonstrators harassed black conservative pundit Candace Owens and her Turning Point USA counterpart Charlie Kirk while they were having breakfast at a Philadelphia restaurant.
Antifa demonstrators Mic recently spoke with about Sunday's D.C. rally wouldn't rule out the possibility of using violence against Kessler and his followers, who plan to start marching from the city's downtown Foggy Bottom metro station at 5 p.m. to Lafayette Park where they will begin their "white civil rights" protest at 5:30 p.m.
A coalition of counterprotesters will host their own DC Against Hate rally in Freedom Plaza at noon before a second and more direct counterprotest rally begins at 2 p.m. in the 900 block of 17th Street near Farragut Square, a block away from the white nationalist rally.
"I can't tell you for certain that we'll be using active self-defense against the fascists," said Vincent, an antifascist organizer with the group Smash Racism DC, who declined to give his last name to protect his identity. "What I will say is we will be there tomorrow and we will try and keep the community safe."
Other anti-racist groups like Black Lives Matter have avoided being lumped in with Antifa following previous demonstrations. The official BLM global network founded by Patrisse Cullors, Alicia Garza, and Opal Tometi chose not to counterprotest at last year's Unite the Right rally in Charlottesville, Virginia, but Makia Green, 26, co-organizer of BLM's D.C. chapter, said the white nationalists' presence in her city poses a direct threat to the safety and security of black locals, who have expressed their own desire to speak out in opposition.
In May 2017, an accused white nationalist sympathizer fatally stabbed a black college student named Richard Collins III at Bowie State University in Maryland, just 25 miles away from downtown D.C.
On Saturday, Green and her fellow BLM organizers participated in a "Community Defense Walk" through black D.C. neighborhoods to ensure black residents are fully aware and prepared for what's taking place in their community on Sunday.
"We knew black protesters were going to come out [tomorrow]," Green said over the phone Saturday morning. "To have a Unite the Right rally in D.C. is a slap in the face for black D.C. residents. We wanted to make sure there's a space for black people to come to."
The antifascists plan to gather and demonstrate separately from the non-violent counterdemonstrators on Sunday, according to Vincent and Green, who said Antifa has BLM's full support to help defend the local community. Local antifascists who participated in the J-20 protests in 2017 have been supportive of BLM's mission, Green pointed out.
"When it comes to Black Lives Matter, we recognize there are many different tactics to abolishing white supremacy," Green said. "I don't like to say one group is peaceful and one isn't. The rally is just making sure people have options on how to protest ... I believe in self-defense. I support [Antifa] and I can recognize how they have protected people of color and stood up for people of color in this fight."
Many on the right have criticized Antifa's no-platform tactics, calling them un-American because they violate conservatives' right to free speech. In fact, the alt-right has used the First Amendment as its rallying cry to recruit new members to its white nationalist cause. Kessler himself recently said, "The First Amendment is under attack."
Some have suggested Kessler's goal on Sunday is to goad antifascists into attacking his group, which could earn the alt-right support from conservative sympathizers and reenergize their overtly racist movement.
Yet Antifa has also been credited by the alt-right with stifling their movement and driving it back into the shadows.
"Antifa is winning to the extent that they are willing to go further than anyone else," alt-right leader Richard Spencer told his followers in March, after antifascists disrupted yet another one of his college visits at Michigan State University, compelling him to end his speaking series. "They are willing to do things that no one else is willing to do."
The alt-right has argued its followers have been peacefully exercising their First Amendment right to speak publicly and have been violently opposed by Antifa.
Vincent, on the contrary, says the alt-right's mission is in itself an act of violence.
"If you actually look at the incidents, the fascists, the right wing, have done much worse violence," he said. "It's them who drove a car through a crowd. It was them stabbing people on subways."
Indeed, white supremacist James Alex Fields Jr. was the one who drove a vehicle through a crowd of protesters, killing Heather Heyer at last year's Unite the Right rally. Alt-right rally-goer Jeremy Joseph Christian fatally stabbed a man and critically wounded another in May 2017 after Christian's victims stopped him from harassing two women of color on Portland's MAX light rail public transit system.
Confessed murderer and self-identifying white supremacist James Harris Jackson will face murder charges when he appears in a Manhattan courtroom next week after fatally stabbing a black man named Timothy Caughman at random in broad daylight not far from Times Square in New York.
White supremacists killed at least four people in 2017.
Antifascist demonstrators didn't kill anyone last year, although some have assaulted Trump supporters and vandalized public property.
White supremacists and other anti-government extremists have carried out more terrorist attacks since 9/11 than radical Muslims, according to a 2017 Government Accountability Office report.
Unity Church of Christ Rev. Brittany Caine-Conley, lead organizer of Congregate Charlottesville, a faith oriented activist group, says Antifa are protectors, not terrorists.
Caine-Conley was one of the counterprotesters who opposed last year's Unite the Right rally in Charlottesville when violence erupted.
"I witnessed as violent white supremacists rolled into groups of antifascists with their bats and their shields and their helmets," she said Friday. "Antifascists were the ones who were willing to absorb that violence so that our more marginalized communities didn't have to. White supremacists came to Charlottesville with the intent to do harm. They would have done harm whether we showed up or not. That is who they are and that is what they want."
Vincent says those who would argue for the free speech rights of Kessler and "the fascists" fail to understand the inherent violence of their speech.
He argues the Trump administration's policies of separating undocumented parents from their families and police brutality that routinely results in the disproportionate death of black and brown people are all violent acts, supported by the alt-right and their views, which is why those views can't be allowed to be aired publicly unopposed.
"If you're going to include bigotry in free speech, it has to include people who are standing against that," Vincent said. "Waiting or being polite or engaging in civil discourse has never worked to stem these violent and oppressive tides. We need people to get up and make a strong show."