Charlottesville, one year later: Protesters and police clash over Confederate statues and Nazi rally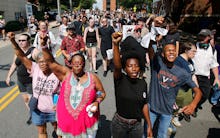 CHARLOTTESVILLE, Va. — One year ago, local police were condemned for standing by as tiki torch-wielding neo-Nazis descended on campus at the University of Virginia before beating and macing anti-racist college students on the eve of the first Unite the Right rally.
Last night, state and local police were criticized once again, this time for presenting a militarized presence on campus as students gathered there for a remembrance ceremony.
The students had planned to "retake" the Thomas Jefferson statue and rotunda where they were confronted by hundreds of the Unite the Right rally-goers on the night of Aug. 11, 2017, a notorious scene that was captured on video by Vice News.
That night, UVA students who opposed the white nationalists formed a circle around the Jefferson statue, chanting "Black Lives Matter!" and "No Trump! No KKK! No Fascist USA!" before they were confronted by the likes of Chris Cantwell and hundreds of his alt-right peers.
Around 7 p.m. Saturday, an anti-racist coalition of students that traveled to the Jefferson statue was stopped by police who'd formed a perimeter around the statue and stationed metal detectors in front of it for security purposes.
The students refused to cooperate with the officers and were denied access to the Jefferson statue and the rotunda. They walked east to the East Gardens green space where they engaged in a standoff with dozens of riot gear-wearing, shield-wielding officers who stood silently shoulder to shoulder with one another.
"We don't see no riot here! Why are you in riot gear?!" dozens of students chanted at the stoic, armored state police.
City councilman Wes Bellamy, who was at the scene, said the presence of the riot officers caught him by surprise as well. Bellamy spoke with a commanding officer at the scene before trying to calm the crowd. Afterward, the officers put down their plastic shields.
"[The commanding officer] said they're not here to do anything," Bellamy told reporters at the scene. "They're only here as a precaution. ... He gave me his word that they're not here to do anything crazy."
Local activist Tanesha Hudson said she was fine with police trying to keep people safe but questioned why law enforcement wasn't as proactive a year ago.
"If they want to overcompensate for what they didn't do last year, let them," Hudson said. "I'm all for safety first, but best believe I'm going to use my freedom of speech."
Later the same evening a few dozen protesters in black bloc attire led a student march to Lambeth Field, which is about a half-mile north of the East Gardens green space.
The outdoor stadium is where the neo-Nazis gathered a year ago before marching to UVA's rotunda, multiple students said.
Hundreds of students filled the Greco-Roman-style stone stadium seats that circle the field before singing protest songs and shouting chants. A row of police officers stood off in the distance surrounding west end of the field, which angered several students once again.
Heads turned and eyes widened as some students on the field unfurled an anti-police banner.
"LAST YEAR THEY CAME W/ TORCHES. THIS YEAR THEY CAME WITH BADGES" the sign read.
Eventually the students vacated the stadium. Moments later the parade of students split up and marched in separate directions.
UVA alum Destinee Wright, who participated in the student march, said the officers didn't make her or her friends feel safe. None of the students seemed aware the officers would be guarding the Jefferson statue and following them as they marched through the streets around campus.
UVA professor Lisa Woolfork, an organizer with Black Lives Matter Charlottesville, said the police security plan could be seen as antagonistic.
"They show up to protect the statue as opposed to when they failed to protect the students," she said.