Native Hawaiians see a silver lining to destruction caused by recent volcanic eruptions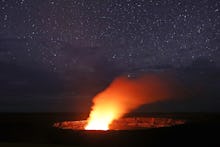 The shake jolted me awake — I was sleeping in a stilted cottage in Volcano village on Hawaii island, not far from the summit of the Kilauea volcano, and my room and all of its contents were swaying back and forth. A text message alert confirmed what I already suspected.
"Volcanic activity near the summit of Kilauea volcano is causing sporadic earthquakes isolated in the volcanic area not due to plate tectonics but by the release of steam through the earth's crust."
I was in Hawaii as a guest of its tourism board, in order to observe the eruptions and their aftermaths in person. According to the United States Geological Survey, Volcano village and its environs on the island of Hawaii — sometimes referred to as the Big Island — have been experiencing around 500 earthquakes a day, which are surface tremors that mainly clock in between 1.5 and 4.0 on the Richter Scale. A series of smaller tremors at the end of April led to a 6.9 quake on May 4 — with its epicenter in the Kilauea volcano — which then led to Halemaumau crater floor collapse. These earthquakes forced magma into new underground chambers that eventually erupted in what has become one of Kilauea's most explosive eruptions to date.
This eruption event, which officially began on May 3, is centered in the Lower East Rift Zone, around what's called "fissure 8" (out of 24 new fissures) and has destroyed 700 homes. And though Kilauea has been constantly erupting since 1983, this new eruption is so significant and singular that geologists are trying to determine whether or not it is actually forming a new volcano.
By many metrics, what is happening on Hawaii island can be considered a natural disaster. But native Hawaiians I spoke to view this period not as one of pure destruction, but rather the logical continuation of their islands' geological evolution — a time of deep cultural and personal reflection and realignment.
"The word we use is 'inevitable,'" cultural ambassador, community organizer and former Miss Hawaii Desiree Moana Cruz said in reference to how best to describe Kilauea's latest lava flow. "Not tragedy, not disaster. I certainly feel compassion for the people who have lost their homes — they're my friends, family and also strangers. But again, we all know this is where we live. We — and I mean native Hawaiians — say, 'Have you seen the pele?' Pele is the Hawaiian word for lava in all its manifestations, passed down through ancient chants and dances."
"And speaking of Pele, she's giving birth to land," Cruz explained. She is referring to the deity Pele, the Hawaiian goddess of fire and volcanoes and the entity credited with the initial and continual creation of the Hawaiian islands. Many are saying Pele is angry, resulting in the sudden eruption, which is something Cruz takes umbrage with. "Just as in the human realm where incredible pain begets incredible beauty, this eruption is part of the process."
One of the more common legends surrounding Madame Pele holds that she currently lives in the Halemaumau crater on Kilauea, in what is part of Hawaii Volcanoes National Park today. She journeyed to the Hawaiian islands from Tahiti, sent away by her father as punishment for her fickle temper as well as seducing her sister's husband. Countless stories of arguments, infidelities, trysts and long romantic entanglements surround her — like one where she was in a relationship with Kamapuaa, the god of water. Kilauea's consistent eruption since 1983, which ends with lava flowing into the Pacific Ocean, is seen by some as a reminder of their violent relationship and her constant presence on Hawaii island. Pele is considered by many to be the most important of the Hawaiian deities, also representing wind, dance and lightning in addition to fire and volcanoes and is known to some by her other monikers: Pelehonuamea or Ka wahine 'ai honua.
Cruz's views are echoed by Keoni Kai Kaholoaa, a Volcanoes National Park guide and ranger who is native Hawaiian. "Many people in the community believe this is a time of cleansing," he said, acknowledging that there are varying perspectives on the eruption being discussed among native Hawaiians. "It's a time where Madame Pele is reclaiming what is hers — she is correcting what is wrong. She's definitely letting us know of her presence and how powerful she can be and where we as humans stand within the pecking order."
Kaholoaa continued discussing the eruption, adding, "It's interesting because even though we have lost nearly 700 homes, yes, it is destructive. But if you understand the culture, it's OK. And for people that are not familiar with our culture, they have a hard time understanding that — they really do. So it's important for us, in our explanations, that we address our perspective so people outside of Hawaii can understand."
He added that, like any other place on earth, this is just the type of natural event they have to deal with, comparing it to earthquakes and fires in California, hurricanes in Florida or tornadoes in the Midwest. On Hawaii island, people living in the shadow of its active volcanoes know that Pele can make herself known at any time, however far off the possibility may seem.
This is a reality that became all too stark for Leilani Estates bed and breakfast owner Petra Weisenbauer, who lost her home and business to the lava over Memorial Day weekend. Weisenbauer watched the lava advance towards her property for almost a month before it became clear that it, too, would succumb to Madame Pele. But she added that, though she is not from Hawaii, she has lived there for 20 years and finds deep comfort and healing in the islands' mythology.
"The Hawaiian culture, with the cycle of creation and the really close connection to the land, the ocean and the sky is something that is very close to me," Weisenbauer said. "I believe in it and this is the foundation for my life. Also, the collective community shares these core values and beliefs — there is a different meaning to everything for us. It gives me enormous strength. It doesn't mean I'm not devastated or grieving but if you take all of this and embrace it, then yes, you can move on."
Kaholoaa also explained how this current event has made many native Hawaiians re-examine their culture's legends.
"I believe, and so do many people in the community, that if someone were to dive into the mo'oleos [stories or legends] of old Hawaii and really invest time and effort, we could better understand our current and past geology. The information is all there, because even though Hawaiians did not have a written language, they spoke about it, like with any ancient tribe."
He continued, "Maybe that's another reason why Pele is doing what she is doing — maybe maybe she's forcing our hands like, 'Hey! Do more research.' The knowledge is right there. It's got to be there because this is not the first time this has happened. The rift zone is the rift zone and it's been here forever."
For Kaholoaa in particular, this period is exceptionally personal. He explained that being Hawaiian and working for the National Park Service is special for him, because he can reconnect to the cultural aspect of the eruption while simultaneously learning the science behind it. In that way, he acts as a conduit between his community and family and his colleagues at Volcanoes National Park. He said that his last name — Kaholoaa — translates to "the flow of jagged rock" in Hawaiian, which signified he belonged to what he refers to as the "Pele clan." He said he always knew this fact but only recently had come to accept it, thanks to the unique circumstances in his life.
"As humans, we are all searching for answers. Because of this eruption, now I know what my name means — now I know who I am. In our culture, everything is tied to your name, because it was initially given at some point in response to something," Kaholoaa said. He sighed, then hesitatingly said, "I wouldn't say this is a glorious time. That's kind of embellishing what is happening."
"Some people do think it is glorious, and it certainly is a fascinating time. It is definitely a time to reconnect you if you are not connected or didn't know how to connect to it," Kaholoaa concluded. "With this eruption, every day is a journey with many questions being asked. And in our culture, the answer is not what people tell you nor the end result, it's throughout. The answer is the journey."
What to know if you're visiting Hawaii island during the eruptions
Since May 11, most of Hawaii Volcanoes National Park has been closed with no plans to reopen until the current eruption event subsides. As of Aug. 6, reports say that volcanic activity from fissure 8 has slowed significantly and geologists are surmising an end to the eruption may be near.
A sliver of the park is currently open to visitors: the Kahuku Unit, which is located an hour south of the main entrance on Highway 11 near mile marker 70.5 in Ka'u. Kahuku is open Wednesday through Sunday, 9 a.m. to 4 p.m. and there are free guided hikes, special programs and Hawaiian cultural workshops available. Visitors to Hawai'i island should know that visiting the island is safe and easily doable, with the exception of visiting the park. Flights to and from the island have not been affected since it began and the affected area is limited to a small, specific corner of southeastern Hawai'i island. Overall, visitors to the island declined 4.8% in June 2018 from the same period in 2017, according to the Hawaii Tourism Authority.
Expedia reported that since May, helicopter tours have increased more than 22% as it's one of the only safe ways to see the eruptions and the active volcano.
Hawaii Forest & Trail organizes sunrise and sunset excursions to the summit of Mauna Kea, which includes a stargazing session and an unparalleled view from the top of the world's tallest technically active (though dormant in actuality) volcano. Another way to directly experience volcano tourism while viewing the current eruption is to book a helicopter ride with Paradise Helicopters. These tours provide a variety of experiences with knowledgeable guides, including routes that fly directly over Fissure 8 and the current eruption in Leilani Estates. The Volcano Art Center, which is in Volcano village at the edge of Hawaii Volcanoes National Park, is open for business, and also happens to be where many of the rangers are setting up base while most of the park is shut down.