Trump continues attacks on Brennan: "He will go down as easily the WORST in history"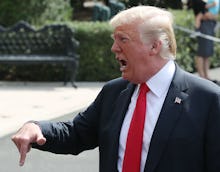 President Donald Trump once again slammed John Brennan, tweeting Saturday that the former CIA director will go down as the "WORST" in the agency's history.
"Since getting out, he has become nothing less than a loudmouth, partisan, political hack who cannot be trusted with the secrets to our country!" Trump tweeted Saturday.
Trump this week stripped Brennan, a fierce critic of his presidency, of his security clearance in what prominent United States intelligence officials have characterized as an attempt to stifle political opponents.
In a statement read by Sarah Huckabee Sanders in a daily press briefing Wednesday, Trump initially claimed he was revoking Brennan's security clearance because of "the risks posed by his erratic conduct and behavior."
But he quickly contradicted that stated rationale, telling the Wall Street Journal that he took away Brennan's security clearance because of his association with the Russia investigation.
"I call it the rigged witch hunt, [it] is a sham," Trump told the paper. "And these people led it!"
"So I think it's something that had to be done," Trump added.
Brennan responded the following day in an op-ed for the New York Times, accusing Trump of using his political power to "scare into silence" anyone "who might dare to challenge him."
He also said the president's oft-repeated claim that there was "no collusion" between his campaign and the Kremlin is "hogwash."
"Mr. Trump clearly has become more desperate to protect himself and those close to him, which is why he made the politically motivated decision to revoke my security clearance," Brennan wrote. "Now more than ever, it is critically important that the special counsel, Robert Mueller, and his team of investigators be allowed to complete their work without interference."
Trump's move to strip Brennan's security clearance has been met with significant backlash from members of the U.S. intelligence and law enforcement community, as well as from Democrats on Capitol Hill. But high-ranking Republicans have defended the president's decision.
Trump said in the statement read by Sanders on Wednesday that he may also revoke the security clearance of other former officials, including fired FBI director James Comey, all of whom are seen as critics of the president.
"I don't trust many of those people on that list," Trump told WSJ. "I think that they're very duplicitous. I think they're not good people."