After Tyler Gebhard was killed by police in Missouri, his white family changed its views on race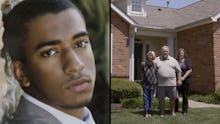 Marlene Gebhard comes from a family of police officers, but her trust in law enforcement was betrayed when an off-duty officer shot and killed her black biracial grandson, Tyler Gebhard, in Lakeshire, Missouri, two summers ago.
According to the St. Louis County Police Department, Tyler Gebhard entered the home of Officer Joshua Lasley's in-laws without permission on July 9, 2016. The 20-year-old reportedly made odd statements and lunged threateningly at Lasley, who had a firearm. Authorities concluded Lasley shot Gebhard to protect his wife and young children, who were hiding in another room.
The alleged intruder was unarmed when he was killed. The shooting has forced Marlene Gebhard to re-evaluate her once-skeptical views on racial bias in policing.
"Racism exists and the criminal justice system is not going to protect all families," she says in Tuesday's episode of Mic Dispatch. "I have experienced it. I am a white person of privilege, but if I couldn't get justice, who can?"
Marlene Gebhard, her husband Larry Gebhard and Tyler Gebhard's mother, Angela Johnson, have spent the two years since the shooting seeking accountability for Tyler Gebhard's death. They've had little success. The office of St. Louis County Prosecuting Attorney Robert McCulloch complicated matters by redacting the full names of Lasley and other witnesses in the house from their initial case report.
It wasn't until local reporters uncovered Lasley's identity that it became public. In the meantime, authorities vilified Tyler Gebhard as a manic, police-hating burglar, according to Larry Gebhard.
"From the very get-go, the police weren't there as a service to us," he said. "They were there to gather as much evidence that they could get to use against Tyler and basically — I don't know a better way to put it than slander his name."
McCulloch's office announced in February 2017 it would not file charges against Lasley. The decision prompted Marlene Gebhard to launch her own private investigation into the incident.
"It's become an arduous task just to put it all together," she said, staring at a living room table covered with binders, stacks of papers and a laptop containing autopsy reports, emergency dispatcher records and 911 audio recordings related to the case.
According to McCulloch's report, Tyler Gebhard went to the home of Lasley's in-laws that July and "rang the doorbell in an aggressive and intimidating manner." When no one answered, Gebhard reportedly walked to the back porch, threw a concrete block through the glass doors and entered the home.
Lasley told investigators Gebhard claimed to be Jesus and asked for the officer's gun. (In an interview, Marlene and Larry Gebhard acknowledged Tyler Gebhard had a psychological disorder, but that the specific diagnosis remained unclear.)
With his personal firearm trained on the 20-year-old intruder, Lasley said he ordered him to get on the ground. Tyler Gebhard then lunged at the officer, causing him to fear for his life and the lives of his wife, children and in-laws, according to McCulloch's report.
"Under the circumstances and the relevant law, [Lasley] acted reasonably and lawfully when he discharged his weapon," the prosecutor wrote in his 2017 memo announcing his decision not to pursue charges.
But Gebhard was no stranger to Lasley's in-laws. He knew them through their church and had socialized with them at the house where he was shot. The day before he was killed, he had upset the officer's extended family by making statements critical of police, members of the Lasley family later told investigators.
"[Tyler] Gebhard said he couldn't leave his house because he was fearful he would be shot by police," McCulloch's report reads. An unidentified woman "tried to change the subject, but Gebhard continued to talk about how many black people were being killed by police."
It wasn't long before Gebhard's fears came true.
"I don't understand who they're supposed to protect and serve," Angela Johnson, Gebhard's mother, said in an interview. "Because all they have to say is, 'I'm afraid for my life' and their homicide is justified. What are you afraid of?"
His death came the same month police shot and killed Philando Castile and Alton Sterling, in Falcon Heights, Minnesota, and Baton Rouge, Louisiana, respectively, sparking nationwide protests and 24-hour news coverage.
Since then, McCulloch was ousted from office by voters in August, nearly four years after he gained national notoriety for not pursuing charges against the Ferguson, Missouri, police officer who shot and killed unarmed black teenager Michael Brown in 2014.
Mic was unable to reach Lasley nor his family for comment.
It's been two years since Marlene Gebhard's grandson was shot and killed, but one conversation she had with him before his death still haunts her, she says.
"We were watching all of these [instances of police violence against black people] occur across the country," she said. "And I made the statement, I said, '[Tyler], all lives matter.'"
"But Grandma, you're missing the point," Tyler Gebhard responded, according to his grandmother's recollection. "Black people are just being singled out for their color."
"And I said, 'Ty, I don't see your color,'" Marlene Gebhard said. "And he said, 'Gram, that's the problem.'"
Now, she realizes why "all lives matter" was an inappropriate response to the spate of police-involved deaths of black Americans.
"This is about all people of color that are traumatized and brutalized and murdered by police departments," she said. "We need hundreds of people, thousands of people saying, 'Enough!'"
Ultimately, Tyler Gebhard is responsible for his grandparents' change of heart, according to Johnson.
"He has left something behind and has changed people for the better because of it," she said. "If this hadn't happened, [my mom] would be playing golf every day of her life. Now, she's an advocate for change. That is Tyler's legacy."