This week in food and travel: When booking a one-way airplane ticket could save you money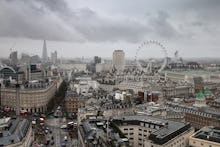 Booking a round-trip ticket seems like the logical move when planning a getaway — but it can sometimes pay off to book two one-way tickets. A report by the New York Times found that 44% of airline travelers booked a one-way ticket instead of a round-trip ticket from January to April. This increase may be partly due the the fact that nearly a third of the top U.S. airlines have seen one-way travel become more affordable. With a little due diligence, you can save on air travel and spend the money where it really counts (like a well-deserved upgrade or an in-flight drink).
In other news, Mic explored one traveler's tips on solo trips, why young people may be in denial about their food waste and why Barnum's Animal Crackers may never be the same.
From London to Tokyo, these are spots you can expect to save a little money on one-way airfare.
One solo traveler reflects on her rookie mistakes, and how she'll do her trips differently in the future.
Americans are notorious for excessive amounts of food waste, but individuals ages 18 to 24 are thought to be especially guilty.
Barnum's animal crackers are no longer in captivity, thanks to PETA.