Jacksonville mass shooting survivors criticize lack of security at Madden NFL video game tournament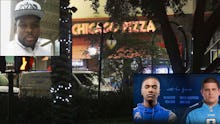 Brian Delph and Mykal Krill are used to seeing metal detectors and bouncers when they travel the country to compete in official Electronic Arts Madden NFL video game tournaments for cash prizes.
But according to both professional gamers, none of those security measures were in place at the Good Luck Have Fun Game Bar inside a Chicago Pizza restaurant in Jacksonville, Florida, Sunday, where America's latest mass shooting unfolded.
At around 1:30 p.m. that day, David Katz — a 24-year-old gamer from Baltimore, Maryland — returned to the venue after losing in the preliminary round of the qualifying event earlier that day and opened fire on his fellow contestants, killing two and wounding at least 10 more before taking his own life.
"You've got celebrity gamers here who make six figures a year and appear on ESPN," Delph said in an interview Monday. "Normally at tournaments of this magnitude there's security, but for some reason there was no security at this tournament. No guards. No wands. No metal detectors. Nothing."
EA Sports did not return calls or emails for comment on why security seemed lacking for Sunday's event, which was part of the Madden Classic division of the company's larger Madden Championship Series.
"Our focus right now is on those affected, and supporting law enforcement as they continue their investigation into this crime," the company wrote in a statement tweeted out Sunday night.
Jacksonville Sheriff Mike Williams told reporters Monday that Katz was armed with two handguns during his killing spree. At least one of those weapons was equipped with a laser scope that he used to target and kill Eli "TrueBoy" Clayton and Taylor "SpotMeplzzz" Robertson.
Both Krill and Delph — a 35-year-old single father who works as a global enterprise adviser for Verizon in Columbus, Ohio — flew to Jacksonville over the weekend to compete in the qualifying tournament in hopes of advancing to the final competition in Las Vegas, which is scheduled to take place in October.
Krill said he was sitting at the restaurant bar adjacent to the game room when Katz re-entered the venue and sat next to him. He said Katz ordered a beer before starting his rampage.
"That kid sat next to us having a drink before he went and started shooting," Krill said in an interview Monday.
Moments after drinking, Krill said Katz walked back to the game room and opened fire through the doorway. Krill was about to enter the game room too, where Delph and the rest of their gamer friends were, before he realized the sound he was hearing was gunshots.
"He was shooting into the game room from this little hallway," Krill recalled. "He looked over at me right in my eyes. He looked like a beast. It was the scariest moment in my life."
Krill said he fled the building before returning minutes later to check on his friends.
When the first shots rang out, Delph said he was standing near an entry way in the back room of the restaurant, where he and Krill estimated that 150 people were participating in the tournament's preliminary rounds.
He said Clayton — who he'd met at previous tournaments — was the first victim to be struck by one of Katz's bullets. Robertson, who was also killed, had a long conversation with Delph Saturday about being a dad.
"Taylor [Robertson] was telling me how he saw my son on Facebook," Delph recalled. "He had a newborn baby, a two-year-old. Him and his wife had just FaceTimed on Saturday. Next thing you know, he's gone. This was the most we talked at this tournament. He was a really good person, one of the nicest guys you'd ever meet."
Panicked and screaming gamers and patrons who crowded around the rear exit to the packed room became easy targets for Katz as they tried to shove their way through the doorway to a back patio and escape the flying bullets.
"People were falling over each other trying to get out of there," Delph said. "They were getting shot trying to run out that rear exit. Thank God I ain't run for the exit."
Police eventually arrived on the scene and escorted Delph and about 13 other people huddled in the bathroom with him outside to safety, but not before Delph and Krill witnessed the aftermath of the carnage.
"I see Eli Clayton in the chair slumped over, all his brains all over the floor," an emotional Krill recalled.
"There was people laid out, shot," Delph added.
Krill and Delph said EA Sports has not contacted them or any of their friends about the incident. The company's next qualifying tournament is scheduled to take place at GEXCon — the Gaming and Entertainment Experience Convention — in Dulles, Virginia, on Friday and Saturday, according to EA's website. GEXCon officials have announced they are reviewing security protocols ahead of the event.
Delph and Krill don't think the event should even take place in light of what happened Sunday.
"They should cancel it," Krill said.
UPDATE: EA Sports announced late Monday evening that it has canceled the three remaining qualifying rounds for its Madden Classic tournament to "review safety protocols."
The company didn't say whether or not it is canceling its final Madden tournament event set to take place in Las Vegas in October.
"We will work with our partners and our internal teams to establish a consistent level of security at all of our competitive gaming events," Electronic Arts CEO Andrew Wilson said in a written statement on the company's web site. "We've all been deeply affected by what took place in Jacksonville. This is the first time we've had to confront something like this as an organization, and I believe the first time our gaming community has dealt with a tragedy of this nature. Please take time to support each other through this challenging time."
10:43 p.m., Aug. 27, 2018: This story has been updated to include a recent statement from Electronic Arts on the Jacksonville shooting incident.