Anti-Trump Reddit user falsely identified as Jacksonville mass shooter by right-wing media outlets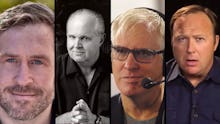 At least seven pro-Trump media personalities and outlets falsely identified an anti-Trump Reddit user as the mass shooter who attacked a Madden NFL video game tournament in Jacksonville, Florida, over the weekend.
Pizzagate conspiracy theorist Mike Cernovich and Daily Caller contributor Ian Miles Cheong tweeted out false reports Sunday accusing a Minnesota Reddit user named Pavel, 23 — who declined to give his last name, but goes by "ravenchamps" on Reddit — of being David Katz, the 24-year-old gamer from Baltimore who allegedly killed two people and injured 10 more Sunday before killing himself.
"Bitch Boy was a diehard Trump hater, as his Reddit account shows," Cheong tweeted.
These false reports were later picked up by Alex Jones' Infowars, Gateway Pundit, Free Republic and Rush Limbaugh, all of which ran stories about Pavel's anti-Trump Reddit threads, some featuring screenshots.
"People kept DM'ing me links [claiming Pavel was the shooter], no idea which was first I get a ton of DMs," Cernovich wrote in a series of Twitter direct messages to Mic on Tuesday. "I had no idea it was a thing until last night ... So I deleted my tweet and apologized."
Katz, the actual alleged shooter, used "Ravens2012Champs" as his online gamertag — which is similar to Pavel's Reddit handle. Pavel is a recent college graduate and factory worker in the Twin Cities region of Minnesota. He had previously posted Reddit threads characterizing Trump supporters as "Trumptards" and morons.
"They really helped me out with my argument," Pavel said in a phone interview Tuesday morning. "I'm enjoying this. I'm laughing all about it. I'm having a good time."
The false news stories characterized Katz as an anti-Trump liberal, apparently aiming to derail progressive calls for gun control legislation that typically follow mass shootings. They also aimed to refute the notion that most mass shooters and domestic terrorists are right-leaning white men.
"I'm thinking you might not hear very much about this Jacksonville shooting after the preliminaries because it appears that the shooter was part of the Trump resistance," Limbaugh said Monday on his radio show.
Pavel realized he'd been misidentified as Katz on Monday afternoon, when he noticed his Reddit account was getting more activity than usual. He said his inactive threads criticizing Trump supporters had received more than 90 messages by 7 p.m.
"A bunch of people were harassing me, saying they hope that I was dead, calling me a pussy for killing myself," Pavel said. "The messages started popping up about 2 p.m. yesterday. I was really confused. I saw articles that had my comments posted in there saying I was the shooter. I had to figure out why they thought it was me specifically."
When Pavel figured out it was his Reddit username that was causing the mix-up, he said he contacted a few of the media outlets to clear up the confusion.
"I was basically saying, 'Why are you accusing me of being this person without confirming it?'" Pavel said. "None of them have really replied or apologized or anything."
Instead of getting angry, Pavel started a related "Ask Me Anything" thread on Reddit.
"I'm apparently the madden shooter what's up," the thread was titled. "Ask away as this is entertaining."
"Are you now or have you ever been a mass murderer?" one Reddit user asked.
"Nope, just when I quick save in SkyRim," Pavel replied, referencing a popular video game.
"Just wanna comment and say hi to the Gateway Pundit because they're probably reading this," another Reddit user posted. "Y'all are fucking stupid."
Gateway Pundit on Monday eventually printed an update, but not a correction, on its story, which now has a different headline.
"An anonymous Reddit user was mis-identified in an earlier post," the update read.
Infowars deleted its story misidentifying Pavel.
Uncle Sam's Misguided Children, a popular pro-Trump Facebook group, still has an active meme up about Pavel that has been shared more than 9,000 times and has more than 1,500 comments. As of 1:30 p.m. Eastern on Tuesday, Limbaugh's related story is still up on his site.
Limbaugh's media team did not respond to an emailed request for comment on this story.
Pavel said some of the Trump supporters who attacked him on Reddit later apologized for falling for the fake news story.
"They said, 'We saw these articles and thought it was true,'" Pavel said. "A few people accused me of buying the account or hacking the account of the person and making it look like it wasn't his even though it was."
But Pavel said he's not taking the attacks personally.
"I just think the world is filled with people that just go on the internet, see an article, assume it's all facts in there and don't do any research themselves," he said. "If it fits their agenda, they'll believe it."