The fight to increase minimum wage will be a midterm election issue, the Poor People's Campaign says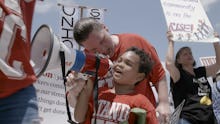 KANSAS CITY, Mo. — Generational poverty and low pay have had a devastating impact on Kenya Banks. Being poor nearly cost Banks her life last year.
She grew up in a household with a mother who worked multiple low wage jobs, often leaving Banks alone to help raise her brother. Banks became a mother to twin girls at age 19, but later lost custody of her children because she could not support them with the paychecks she earned in warehouses and fast food chains.
"My girls were 7 and they couldn't understand why we couldn't live in our own place," Banks, 44, said in a recent interview. "They said, 'Well, just get another job.' And I'm like, 'When will I see y'all?' Me growing up, not seeing my mom — I didn't want them to grow up without seeing me."
But it was Banks' brush with death in 2017 — an untreated medical condition had caused excessive menstrual bleeding and escalated to an emergency hysterectomy — that intensified her involvement in a national movement to raise the minimum wage, fight for better health benefits and secure union representation.
"It made me want to fight harder because that should not have to happen," Banks said. "I shouldn't have to be laying on a table, bleeding to death in order to get the health care that I need."
As midterm election campaigns gear up across the country, Banks is one of thousands of grassroots advocates who have mobilized in protest to make raising the minimum wage a top political issue this fall. Although there are millions of U.S. workers earning at or just above the federal minimum wage of $7.25 per hour, Congress has previously failed to significantly raise wages for employees of corporations and small businesses. But amid a grassroots push, workers in 25 states and cities won raises in 2016. Organizers of the Fight for $15 and the renewed Poor People's Campaign, which aim to raise minimum wage for fast food and blue collar workers across the nation, said they'll build on local and state level victories by sending swarms of low wage voters to the polls in November.
Unemployment is at an 18-year low. But according to the most recent and available data, 12.7% of Americans or roughly 40.5 million people have lived at the federal poverty level. In 2018, that's $12,140 in annual earnings for an individual, and $25,100 for a family of four. At $7.25 per hour, an individual earns a few thousand dollars above the poverty level. Workers' rights advocates consider $15 per hour a "living wage" — that's generally enough to cover the costs of housing, transportation, food and other bills. But 42% of American workers make less than that, the majority of whom are women and people of color.
"It's all about giving a voice to the poor," Rabbi Douglas Alpert, a statewide coordinator for the Missouri Poor People's Campaign, says in Tuesday's episode of Mic Dispatch. "These folks are working two and three jobs and still can't make ends meet. That's a sin. And we want to get their stories back into the political narrative and their issues back on the front burner where they belong."
The Poor People's Campaign, a revitalization of the Rev. Martin Luther King Jr.'s effort to center the plight of poor and working-class people in social and civil rights struggles 50 years ago, engaged in several weeks of civil disobedience in 30 states this summer. This fall, the goal is to launch on voter registration and voter mobilization to send a message to elected leaders, Alpert said.
The campaign will have help from Bridget Hughes, a 26-year-old mother of three children, who recently lost her job at a fast food chain in the spring. Hughes, who has been one of the most vocal advocates in Missouri's chapter of the Fight for $15, said she feels confident the campaign will win on the national level.
"At the end of the day, when you work in the richest nation in the world, you deserve to come home and pay your bills. You deserve to come home and feed your children," Hughes said in the Mic Dispatch episode.
She added, "There's too many of us living in poverty and too many of us that are sick and tired of going through this for us to not succeed."
Check out episode 13 of Mic Dispatch above — only on Facebook Watch.
To catch future episodes of Mic Dispatch, follow Mic Dispatch on Facebook Watch. For more stories about the show, visit the Mic Dispatch collections page.