California's celebrated law ending cash bail is actually a disaster for defendants, advocates say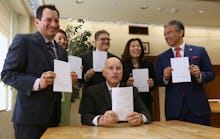 Democrats in Sacramento, California, celebrated Tuesday when Gov. Jerry Brown signed into law a bill eliminating cash bail throughout the state, a first-of its-kind measure.
But many criminal justice reform advocates who helped brainstorm earlier versions of the bill were devastated by its final approval.
"California has just signed into law the worst pre-trial detention law in the country," Raj Jayadev, a community organizer and coordinator with Silicon Valley De-Bug, said in a phone interview.
Senate Bill 10, which takes effect in October 2019, is set to end the practice of jailing people indefinitely simply because they can't pay bail — a cause long championed by progressive reformers across the United States.
Yet critics argue that the new law will replace cash bail with something far worse for detainees, due to last minute changes to the legislation proposed in recent weeks by the Judicial Council of California, the policymaking division of the state's court system.
The original bill gave defendants a presumption of release before trial, advocates say. But the finalized version grants judges far greater discretion over who to keep in custody than they had before the law passed — which could result in even more people being locked up indefinitely without being convicted of crimes.
"At this point, the judges have significantly more decision-making power to determine who is eligible for release," Jessica Farris, criminal justice project director for the ACLU of Southern California, said in an interview.
A statewide coalition of 10 advocacy groups spent almost two years helping draft the original bill. As the final vote approached, the legislative process was "hijacked" by the JCC, according to Gina Clayton-Johnson, executive director of the Essie Justice Group, which helped draft the original bill along with the bill's legislative sponsor, state Sen. Bob Hertzberg.
"We had the bill changed before our eyes," Clayton-Johnson said in a phone interview. "Hertzberg had been approached by the Judicial Council of California, who had their own ideas about what they wanted bail reform to look like."
The biggest problem with the new law, according to its progressive critics, is that it expands the parameters of preventative detention, allowing judges to keep people locked up pre-trial based on the judges' own discretion.
Alex Barnett, Hertzberg's policy consultant, argues that increased judicial discretion will only affect defendants accused of "high-risk" crimes, such as murder or rape. Those accused of low-risk crimes and misdemeanors likely won't be detained in most cases, he says — but again, that decision will be left up to a judge.
"Anyone who commits a misdemeanor or a crime considered low-risk will have a presumption of release," Barnett said during a phone interview.
Jayadev said the law's language around defendants' risk assessment score — a metric used to determine how much of a public danger a defendant might pose if released pre-trial — makes it easier for judges to rule in favor of detainment.
"If you're deemed high-risk, then you're presumed to be detained," Jayadev said. "That means you're locked up at least until your detention hearing."
Defendants deemed "high-risk" must now prove at their detention hearing why their pre-trial detention is unjustified if they wish to be set free. Jayadev argues that these changes will result in more people locked up before they've been found guilty of a crime, not less — which is precisely what the law was originally intended to prevent.
"Under the current law, the burden was on the prosecutor to prove why bail should be denied to you," Jayadev said. "If high bail was assigned, at least then you had the slim possibility of paying it if you couldn't afford it. Under the new law, a judge can simply order you detained with no chance of pretrial release."
Barnett, Hertzberg's policy consultant, said the law's critics are wrongly implying that the new legislation is designed to jail more people.
"The idea isn't that more people will be behind bars," he said. "It's more people will be behind bars who should be behind bars before trial ... Our concern is public safety. We don't want somebody who broke his girlfriend or wife's skull being let out."
The ACLU on Tuesday joined 50 total criminal justice reform advocacy groups — including five from the coalition of 10 that brainstormed the original bill — in condemning the law they had previously supported.
"SB 10 is not the model for pre-trial justice and racial equity that California should strive for," the ACLU said in a written statement. "It cannot guarantee a substantial reduction in the number of Californians detained while awaiting trial, nor does it sufficiently address racial bias in pretrial decision making. Indeed, key provisions of the new law create significant new risks and problems."
Clayton-Johnson said that Hertzberg had trouble justifying these last-minute changes to the coalition of activists he'd worked with for almost 24 months.
"We met with the senator and he admitted that this was really unusual," Clayton-Johnson said. "He was like, 'If you need to drop out of the coalition and drop your support, I understand.'"
During the bill's final push, Democrats in Sacramento — including the governor — seemed more interested in celebrating a landmark legislative win than enacting a law that would actually keep people from being locked up, according to Clayton-Johnson.
"This is really an example of when Democrats get really excited about a progressive win that's right there in their midst," she said. "It's very difficult to pass up this opportunity to be able to attach your name to ending money bail in California, but at what cost?"
In theory, cash bail is collateral to ensure that accused criminal defendants show up for court proceedings. Yet for decades, reform advocates have argued that pre-trial bail violates the rights of people who can't afford it. In lieu of payment, these people are often forced to sit in jail for weeks, months and even years without being convicted of a crime.
Kalief Browder became a martyr for the bail reform cause in New York City after spending three years locked up at Rikers Island awaiting trial for a crime he didn't commit. Browder, who is black, was arrested in 2010 under suspicion of second degree felony robbery for allegedly stealing a backpack.
Browder refused to take a plea deal that would have secured his freedom but required him to admit guilt — a common recourse for people who may not be guilty, but don't want sit in jail indefinitely. While awaiting trial, Browder was beaten by corrections officers and fellow inmates alike and spent most of his time at Rikers in solitary confinement. He was released from prison in 2013 and hanged himself two years later, at age 22. He'd faced years of mental health issues related to his pre-trial detention.
Hertzberg's office admitted that California's new law doesn't guarantee defendants like Browder can't be detained indefinitely before their trial. Barnett said the state's courts are required to grant defendants charged with felonies a speedy trial — within 60 days of their arrest — but that it's common for the accused to wave their Sixth Amendment right to give their attorneys more time to prepare a strong defense.
Research shows that America's bail systems are racist as well: people of color nationwide are more likely to receive higher bail demands from judges than their white counterparts charged with similar offenses. The consequences of such detention are often severe, including loss of employment, eviction and mental health problems, in addition to separation from one's family.
Clayton-Johnson's organization advocates on behalf of people from marginalized communities who are often forced to remain in jail pre-trial because they can't pay bail. Some of these clients — many of whom are incarcerated today — were disappointed to hear that the bill their allies have worked on has gone awry, she said.
"They feel really let down," Clayton-Johnson said. "The second feeling is deep worry about what this means for their family members and for themselves."