Asian-American students suing Harvard over race-based admissions policy get DOJ support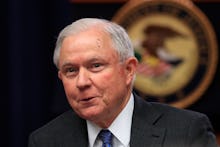 A group of Asian-American college students suing Harvard University over its alleged anti-Asian-American admissions policies is now receiving support from the U.S. Department of Justice.
The DOJ announced Thursday it had filed a "statement of interest" supporting Students for Fair Admissions, the Virginia-based conservative nonprofit behind the suit, according to the New York Times.
The Asian-American plaintiffs in SFA's Harvard case were previously rejected by the university and filed a federal lawsuit alleging the school's undergraduate admissions policy is racially and ethnically discriminatory.
SFA has filed similar suits in the past against other elite universities, previously arguing that white students are at a disadvantage to be admitted to those colleges because of admissions criteria that take race into account.
"Harvard admits, indeed proclaims, that it does consider an applicant's race, among many other factors, in deciding whether to admit the applicant," the plaintiffs wrote in their Massachusetts District appellate court complaint. " It denies that this consideration is unlawful."
In a written statement Friday, Attorney General Jeff Sessions said the DOJ is supporting the Asian-American students because it has a responsibility to protect the civil rights of the American people.
"No American should be denied admission to school because of their race," Sessions said in the written statement. "As a recipient of taxpayer dollars, Harvard has a responsibility to conduct its admissions policy without racial discrimination by using meaningful admissions criteria that meet lawful requirements."
The plaintiffs argue that Harvard's admissions process is an illegal de facto quota system designed to ensure virtually the same percentage of black, white, Hispanic and Asian-American students are admitted annually, according to the Times.
"It falls afoul of our most basic civil rights principles, and those principles are that your race and your ethnicity should not be something to be used to harm you in life nor help you in life," Edward Blum, president of Students for Fair Admissions, told the Times.
Harvard University did not immediately respond to Mic's request for comment on the DOJ's statement.
Aug. 30, 2018, 12:39 p.m.: This story has been updated to reflect a correction the New York Times made in its story after publication.