Drake called Trump an "idiot" at New York concert last night, in a rare political turn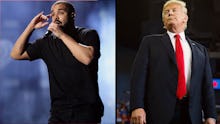 Drake has been taking public swipes at President Donald Trump while on his current tour — but at a concert in New York City on Thursday he was uncharacteristically direct about his feelings on the U.S. president.
While performing at the Barclays Center in Brooklyn, New York, the hip-hop icon — who's been criticized in the past for supposedly avoiding political topics in his lyrics throughout his career — was finishing up his set by performing his mega hit "God's Plan," when he again made an observation about the multi-hued concertgoers at his show in the adopted country he now calls home.
"Right now, I feel like we're all living in a country where they try to tell us every single day on our cell phone, on the news, they try and tell us that we're living in a divided country, that we don't understand unity," the rapper said. "We're listening to this fucking idiot that's in office, you understand?" he continued as the crowd erupted into cheers. "We're listening to this idiot in office that's trying to tell us that something is going on. And meanwhile right here in public, we got 16,000 people from all races and all places and all we're doing is just sitting here enjoying ourselves, listening to music."
It wasn't the first time that the rapper-singer got political while promoting his latest album, Scorpion. Last week, in his native city of Toronto, Canada, the OVO Sound emcee was performing at Scotiabank Arena in front of a diverse crowd of his fellow Canadians when he told them they serve as an example of unity and love that the United States can learn from.
"Every night that I go and I do a show in America, I tell them that this is how the world is supposed to work," Drake said. "Tonight we got 17,000 people inside one building from all races, from all places, and all we're doing is just listening to music and smoking and drinking and enjoying our lives. That's something I learned right here in Toronto. That's how we've been doing our shit from day one."
Variety senior music writer Jem Aswad interpreted Drake's words as a thinly-veiled criticism of America's political climate under President Trump.
"He didn't mention Donald Trump by name, but he didn't need to," Aswad wrote.
Trump himself is known for punching back at celebrities who diss him, whether it's in songs or in the media — especially when those celebrities are black men.
The commander in chief hasn't tweeted a response to Drizzy's remarks yet, but if recent history serves as a guide, Drake should expect a rebuttal of some kind.