What does Nike see in Colin Kaepernick that the NFL doesn't?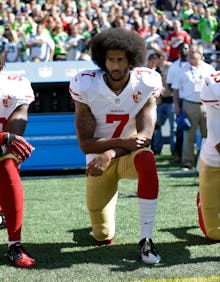 It's tempting to believe that Nike was driven by altruism Monday when the company announced that former San Francisco 49ers quarterback Colin Kaepernick would be featured in its 30th anniversary "Just Do It" ad campaign.
But Nike's history tells a different story. The sports apparel titan has stayed mostly silent about Kaepernick's struggles with angry fans, the NFL and even the White House since August 2016, when the 30-year-old started protesting police violence by refusing to stand during the national anthem before games.
The difference today is about dollars, according to experts.
"It's a marketing campaign, so of course [Nike is] doing this to make money," Helio Fred Garcia, president of the crisis management firm Logos Consulting Group, said.
Partnering with a controversial figure like Kaepernick is widely seen as a business risk. But Nike's willingness to do so says more about the potential bankability of progressive activism in sports today than it does about the company that seeks to profit from it.
The potential rewards for these risks already seem apparent. Nike has invested more than $1 billion in NBA star Lebron James, whose popularity seems to have held steady or grown despite — or possibly because — of his stances against Donald Trump and his support of the Black Lives Matter movement.
Other prominent NBA players like Kevin Durant — also signed with Nike — and Stephen Curry — who is signed with Under Armour — have spoken out against Trump as well. The president's supporters are overwhelmingly anti-Kaepernick, suggesting that the companies endorsing these athletes risk alienating potential customers.
"I think it's a terrible message," Trump said of the Kaepernick deal Tuesday in an interview with the Daily Caller. "In another way, it is what this country is all about, that you have certain freedoms to do things that other people think you shouldn't do."
But if these NBA players are an indication, partnering with Kaepernick seemed worth the potential fallout. His inclusion in the "Just Do It" campaign kicks off a multi-year endorsement deal with Nike, according to the Washington Post. The quarterback's first deal with the company began in 2011, but has been dormant for years.
"Nike sat on Kaepernick for two years with no idea what to do with him," Yahoo! sports reporter Charles Robinson tweeted, adding that the company was ultimately spurred into action by competing shoe companies showing interest in the ex-Niner.
So far — despite garnering praise — Nike's decision has not been without costs. The company's stock price took a hit Tuesday as a Monday afternoon social media uproar turned into calls for a boycott.
The National Association of Police Organizations joined country music star John Rich — who won Donald Trump's Celebrity Apprentice in 2011 — and several angry Twitter users in vowing not to spend another nickel with the company, according to TMZ Sports.
The new "Just Do It" campaign is further complicated by Nike's relationship with the NFL, an entity currently embroiled in a collusion case brought by Kaepernick, who has accused the league of conspiring to keep him off the field because of his politics. Nike recently signed an NFL apparel contract extension through 2028.
"We embrace the role and responsibility of everyone involved with this game to promote meaningful, positive change in our communities," the NFL said in a statement Tuesday, according to Reuters. "The social justice issues that Colin and other professional athletes have raised deserve our attention and action."
And while it's true Nike has waded tepidly into political conversations in recent years, it has traditionally been more comfortable partnering with apolitical athletes. Michael Jordan helped Nike pave a lucrative path in sports marketing during the 1990s, even as the NBA legend took criticism for avoiding controversial social and political topics throughout his career.
Tiger Woods supplanted Jordan as Nike's biggest star during the 2000s, in large part due the novelty of being a dominant, non-white golfer — though he too has largely avoided discussions of race and politics.
Over the past three years, Nike has faced strong competition, sales declines and growth stagnation as peer competitors like Under Armour and Adidas chip away at its once largely undisputed market dominance.
It's clear Nike was looking to do something to shake things up, which is why some industry advisors are praising Nike for continuing to make its mark as a trendsetter that's not afraid to take risks.
"We commend Nike for its willingness to partake in a more edgy, risky advertising campaign while refreshing its 30-year-old 'Just Do it' campaign," retail industry analyst Brian Nagel wrote Tuesday in a note to clients, according to MarketWatch.
CNBC investment analyst Jim Cramer advised his followers to wait a day and buy Nike's stock while its price is still down.
"I think Nike will be fully discounted within a few days," Cramer said. "There may be enough people who hate the [Kaepernick] ad, but a lot of people might love the ad. It's obviously controversial and therefore it's hot. Hot is cool ... If you can be cool, you will sell."
Kaepernick's jersey sales went through the roof after he began protesting in 2016. In October of that year, he made the cover of Time Magazine. Young athletes across the United States took a knee during the national anthem in support of the quarterback and his message.
The writing was on the wall for Nike, as Kaepernick's rise while the company was facing an increasingly competitive market clearly made him an attractive partnership option. Garcia says the company is betting a majority of its customers are Kaepernick supporters who will be inspired to remain loyal to the brand because of his politics — not in spite of them.
"They'll gain as much as they lose," Garcia said. "Nike is famous for taking athletes who are doing remarkable things, both in the sport and beyond the sport, and using them for emblems of their way of life, which is 'Just do it.' It is an important stand for their stakeholders. It aligns with their values. They appear to be doing it responsibly. As a result, they're going to get as many people to prefer the Nike brand as people who say they will shun the Nike brand."