Adult summer camp: Where adventure meets boozy debauchery and grown-ups can feel like kids again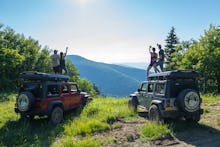 "Is everyone adequately lit?" Simon Donato called out, casting the blinding beam of his headlamp into the faces of those circled around him. Dusk was settling around our ragtag group of 14 trail runners — who ranged in experience from a guy who just picked up the sport a couple months ago, to a sponsored pro ultrarunner, to Donato, a veteran guide and adventurer — and the creeping forest shadows had nearly erased the broken trail from underfoot. We all turned on our headlamps, ensuring we had enough light to make our way down the mountain.
We also needed music. Jeanie Tinnelly, a leader of NYC's chapter of the November Project, a free fitness movement, had a Bluetooth speaker slung over her shoulder blasting soul classics from the likes of Whitney Houston, Donna Summer, Tina Turner and Aretha (with a little bit of Drake to keep things fresh). In an instant, the run transformed into a roving dance party that burst from the woods and barreled down the mountainside. At run's end, the leaders formed a raucous "cheer tunnel" that each subsequent finisher danced his or her way through. High-fives and fist bumps were exchanged before our sweat-soaked group broke up and melted into the nightly festivities at a nearby tent village, where live music and an open bar awaited.
Welcome to Pursuit Series, a three-day camp experience that bills itself as "outdoor adventure camp for grown-ups." Founded last year by the people behind online adventure community the Outbound Collective, it's a relative newcomer to a whole cottage industry of adult summer camps that have sprung up across the nation over the past five or six years. These, for the most part, come in two distinct flavors. First, there are the retro-style camps — like Camp Grounded, Camp No Counselors, Soul Camp, Camp Throwback and Camp Bonfire — that mix the archery, friendship bracelets and capture-the-flag campaigns of childhood summer sleepaway camps with boozy adult debauchery. And then there are the more earnest, nature-centric camps — REI's Outessa, Snow Peak Way and the Fjällräven Classic — that, like Pursuit, seek to unite disparate, but like-minded people over their shared love of the great outdoors.
This summer, my wife, Laura, and I were feeling nostalgic, too, but not for some decades-old, adolescent sleepaway camp; rather, we were missing our more adventurous past. While we both consider ourselves to be outdoorsy, we're also busy working parents of a four-year-old daughter. We used to dabble in rock climbing, mountain biking and multi-day backpacking trips, but now we spend more time on activities that are easy to access and that we're already comfortable with — running, road cycling, hiking, paddling and car camping.
That's why the idea behind Pursuit Series — to introduce people to new outdoor sports like climbing, mountain biking, stand up paddleboarding, trail running and hammock camping in a friendly, no-pressure environment, fully outfitted with expert guides and pro athletes leading the charge — appealed to us. It seemed like the perfect opportunity to try a bunch of different sports, no experience necessary, while exploring the Catskills, our backyard mountain range. It also meant a long weekend of all-inclusive glamping adventure away from our kiddo — priceless in its own right — and for only $500/person, a deal that even Club Med can't compete with.
And so, on the last weekend in June, we headed down the Hudson Valley to the Catskills' Hunter Mountain, to participate in one of this year's two weekend-long events (the other took place in August, outside of San Francisco at Bear Valley).
The way Pursuit works is that each day is chock-full of activities — including all of the adventure sports, yes, but also educational seminars on things like wilderness first aid, map-and-compass navigation and backcountry camping, and just-for-fun sessions like campfire cocktail mixology and cooler decoration — and you add and drop things from your schedule using personal scheduling app Sched. The ideal approach, said organizers, was to build down time into your schedule, and break up more physical activities with laid back learning and fun. But we were determined to make the most of our precious time at camp, so we flatly ignored their advice and spent long hours meticulously planning nearly every minute of our weekend.
Laura changed to a bathing suit and ran off to nearby Dolan's Lake for a SUP class (she learned new strokes that made a formerly unwieldy 11-foot paddleboard turn on a dime), and I joined a late-afternoon trail run, where I met newly minted Northwestern grad Eli Wallace, who'd flown out from his native Chicago, and a Harlem-based ultrarunner named Amir. A couple of hours later, we sat down with Tinnelly and her November Project co-leader John Honerkamp for barbecue pulled pork, brisket, grilled corn and fresh field greens. These nightly meals would become my favorite part of Pursuit, because they offered us all a chance, in the sweaty afterglow, to recount our adventures and learn about each other in a way that both affirmed and elevated the shared experience. It helped, too, that the food was delicious and washed down with ice-cold beer. After that night's headlamp trail run, we stayed up late, drinking beers and roasting campfire s'mores while an instrumental surf band called Gringo Motel provided backdrop music.
On Saturday morning, we joined an off-trail hike that made a beeline up the mountainside ski slopes, which had erupted with early summer wildflowers. Right beneath the chairlift, veteran guides John Baston and Michael O'Connell picked fragrant wild oregano and edible wild strawberries. Later, Baston talked about the geology of the area, pointing to the 400-million-year-old sandstone that's made the ancient Catskills so resistant to erosion. And it went on like that, transforming an otherwise ordinary walk in the woods into an engaging, Master-level class in interpreting the nature and landscape around us. The only disappointment was that once we hit the canopy, we were right back on the same ragged trails we'd run the previous night, and which we'd repeatedly ran and hiked and mountain biked throughout the weekend. One of the challenges of finding a venue for so many different activities, we learned, was finding one that could do each of them well.
On Saturday afternoon, Laura and I rode the chairlift to the ski summit, where we joined all 450 other "Pursuers" for a mountaintop beer-and-cocktail happy hour. A drone took a group selfie, and we moved through the crowd, chatting here and there with all the people we'd met and befriended over the past two days. Laura said she was struck by just how friendly and welcoming everyone was in this outdoor community. Nobody here passed judgment when you fell off your SUP or had to walk up a steep incline mid-run or flipped over your handlebars. Down at the tent village, people left their fancy smartphones unsupervised at communal charging stations for hours at a time. It felt natural at the time, but is pretty shocking, in retrospect. It was clear that, in the span of only a few days, our group of 450 strangers had formed a trusted community.
And maybe that's the biggest takeaway from our time at Pursuit Series. We went there thinking it was all about having adventures in a variety of outdoors sports and activities. And while that was a big part of it — we would also join a nighttime mountain bike ride, rappel down a cliff and cruise around the lower slopes on a sort of motorized snowboard called Onewheel — it certainly wasn't all of it. It was also about finding a friendly group of like-minded people who we could allow ourselves to be vulnerable with, as we all learned together — and then celebrating with beer and good food at day's end. That sense of belonging is something we've taken back to our regular lives, and can tap into when we're deep in the weeds of parenting… until next year's camp, that is.
Sept. 13, 2018, 11:30 a.m. Eastern: This story has been updated.