Dallas officer fatally shoots Botham Shem Jean after mistaking his home for her own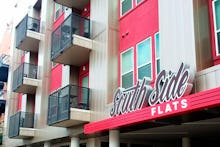 The Dallas Police Department confirmed Friday that 26-year-old Botham Shem Jean was unarmed Thursday when he was fatally shot in his own home by an off-duty female officer who walked into the wrong apartment.
"There is no evidence at this time to suggest that he was armed," Dallas police spokeswoman Debra Webb said in an email.
Police are now seeking a warrant to arrest the officer based on their preliminary investigation, NBC News reported.
"Right now there are more questions than answers," Dallas Police Chief Reneé Hall said at a press conference Friday. "We understand the concerns of the community. That is why we are working as vigorously and meticulously as we can to ensure the integrity of the case and the department is upheld."
Authorities haven't released the identity of the officer, who allegedly entered the wrong apartment in her building around 10 p.m. Central on Thursday and opened fire on Jean after thinking he was an intruder who'd broken into her home.
The unnamed officer called 911. Paramedics arrived on the scene about four minutes later and took Jean to the hospital, where he was pronounced dead. Investigators obtained a blood sample from the officer to test for drugs and alcohol before beginning the process of obtaining a warrant.
"We have also invited the Texas Rangers to conduct an independent investigation," Hall said.
Jean was a student at Harding University, a private Christian institution in Arkansas, where he was a member of the Good News Singers and belonged to a campus ministry group, according to NBC News. He is originally from the Caribbean island of St. Lucia.
"He did no one any wrong," his mother, Allie Jean, told NBC News by phone. "Somebody has to be crazy not to realize that they walked into the wrong apartment. He's a bachelor. Things are different inside. And if you try your key and it doesn't work, that should make you realize you're at the wrong apartment."
Local clergy and activist groups, including Mothers Against Police Brutality, will host a vigil honoring Jean at 7 p.m. Central on Friday near Dallas police headquarters, according to MAPB co-founder John Fullinwider.
"We're going to lift up Mr. Jean's life and the lives of others that have been killed by the Dallas police," Fullinwider said in a phone interview Friday.
Jean's death comes just days after former officer Roy Oliver was sentenced to 15 years in prison for the fatal shooting of 15-year-old Jordan Edwards in the Dallas suburb of Balch Springs, Texas, in 2017.
Oliver became only the second officer to be convicted of murder in the estimated thousands of fatal police shootings that have occurred since 2005. He's also the first on-duty Texas officer since 1973 to be "convicted of killing someone in a shooting," the Fort Worth Star-Telegram reported.
Fullinwider, 66, who has been an activist in Dallas for decades, said he hopes Oliver's conviction signals that Americans want to stop letting officers who kill civilians get away with murder.
"A police homicide is like no other," Fullinwider said. "Usually if you kill someone, you don't go home on paid leave. You go to jail. We're going to try to get the special treatment of police officers who kill someone ended."