Rapper Mac Miller dead at 26, 'TMZ' reports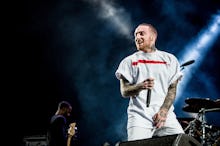 The celebrity gossip site TMZ, often the first to report news of celebrity deaths, reported on Friday that rapper Mac Miller had died at the age of 26. Citing unnamed "law enforcement sources," TMZ reported that Miller was found dead Friday in his San Fernando Valley, California, home.
Miller was a Pittsburgh-born rapper and producer known for songs like "Loud" and "Smile Back," as well as for his high-profile former relationship with singer Ariana Grande.
Miller had been open about his experience with addiction. In 2013, he told Complex that he developed an addiction to promethazine and struggled to quit. In August, he was charged with a DUI after a May car crash in which he hit a utility pole with his car.
In an interview with Vulture published on Thursday, Miller spoke about his fame and his occasional notoriety. "I could live this squeaky clean life and everything," Miller said. "I could try to control the media. But I've been finding freedom in just living and letting people say whatever the fuck they want. Like, do I really care what Hollywood Life is saying? If I read a headline, and I'm like, 'Wow, that's completely untrue …' I'm like, 'That's as far as it goes. Okay, cool. So a bunch of kids now think that.' Fine. As long as I have people that are hearing my music, and there's still that relationship … all that [other] shit lasts a day."
Miller's peers immediately tweeted out reactions to reports of his death, including Jaden Smith and Chance the Rapper, who wrote, "Mac Miller took me on my second tour ever. But beyond helping me launch my career he was one of the sweetest guys I ever knew. Great man. I loved him for real. Im completely broken."
Sept. 7, 2018, 5:08 p.m.: This story has been updated