Dallas officer who fatally shot Botham Shem Jean said he "ignored her verbal commands"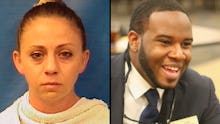 The Dallas police officer who returned home to the wrong apartment Thursday evening and fatally shot the unarmed black man who actually lived there, allegedly thinking he was an intruder, was arrested by Texas authorities Sunday night.
Amber Renee Guyger, 30, a four-year veteran of the Dallas Police Department, was booked on manslaughter charges at Kaufman County Jail around 7:30 p.m. Sunday, three days after she shot and killed Harding University graduate Botham Shem Jean.
Guyger was released from jail shortly after posting a $300,000 bond Sunday.
Authorities said Guyger was returning home from a 15-hour patrol shift around 10 p.m. Thursday when she parked her vehicle on the wrong level of the parking garage outside the South Side Flats apartment complex where both she and Jean lived, according to the Dallas Morning News. Guyger told investigators that Jean's door was unlocked and his lights were off when she entered his home. She mistook him for a burglar and fired two shots, one of which hit Jean in his chest, investigators said.
The Associated Press reports Guyger told investigator David Armstrong of the Texas Rangers that Jean's apartment was "nearly completely dark inside" when she entered and that Jean "ignored her verbal commands" before she shot him.
Civil attorneys Lee Merritt and Benjamin Crump were both recently hired by Jean's family.
Both attorneys hosted an afternoon press conference on Sunday not long before Guyger's arrest, after speaking with investigators with the Texas Rangers, the law enforcement agency tasked by Dallas Police Chief U. Reneé Hall with heading up the investigation of Guyger.
"We wanted to know why that person was not in handcuffs yet," Merritt told reporters outside the Frank Crowley Courts in downtown Dallas. Merritt added that the delay in Guyger's arrest went against the wishes of the Dallas police chief, whose department had filed for a warrant to arrest Guyger on Friday before turning over its investigation to the Texas Rangers.
"We feel she was quite frankly overruled and disrespected by the Rangers who decided to take that away," Merritt said. "I spoke to the Rangers and they said that they didn't [delay Guyger's arrest] because probable cause didn't exist, but they wanted to go slower. ... We don't treat law enforcement officers who commit crimes like criminals."
Alleged cellphone video of Guyger weeping and pacing as she called 911 after shooting Jean Thursday evening was posted to Facebook on Friday. Moments later, medical first responders can be seen hurriedly wheeling Jean on a stretcher to an ambulance as they pump on his chest trying to resuscitate him.
Merritt said his legal team had obtained the video and contacted the person who filmed it, but that the district attorney's office hadn't received or reviewed the evidence as of Sunday evening.
"It's really important information that could change the course of their investigation," Merritt said.
Jean is a native of the Caribbean island of St. Lucia who participated in campus ministry programs at Harding University in Arkansas and was in Dallas working as a risk assurance associate for PricewaterhouseCoopers when he was killed.
He had no criminal record, according to Crump.
"He was an amazing student, he was an amazing citizen," Crump said. "His family is struggling [with] how to deal with him being taken away."
Sept. 10, 2018, 6:04 p.m.: This story has been updated.