Tyrone West died in police custody 5 years ago. Here's how his sister is still fighting for justice.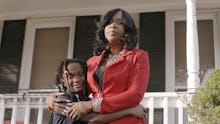 It's been over five years since Tyrone West's scuffle with Baltimore police ended with his in-custody death. And his sister, Tawanda Jones, hasn't stopped leading weekly vigils calling for the officers involved to be held accountable.
Jones often shouts a refrain over a loudspeaker at "West Wednesdays," the vigils she holds at busy intersections or outside government buildings to draw attention to her brother's case and to other cases of police violence: "We won't stop, we can't stop, until killer cops are in cell blocks!"
West, who was pulled over by police July 18, 2013, allegedly resisted arrest after officers started to suspect he had drugs on him, authorities said. Eight officers were eventually needed to restrain West. According to the Independent Review Board that investigated the case, the Maryland Office of the Medical Examiner concluded West's heart stopped due to dehydration, exertion and "physical excitement."
Jones and her family disputed that conclusion, ordering their own autopsy that determined West's death was caused by asphyxiation while under police restraint. Law enforcement falsely painted West as a drug offender with bad health, his sister said.
In December 2013, the Baltimore City State's Attorney's Office cleared police of wrongdoing and declined to seek criminal charges. Although West's family accepted $1 million to settle a wrongful death lawsuit — the agreement stipulated the family refrain from discussing the case publicly — Jones was not party to it.
"I'm obligated not just to fight for my brother because these are not isolated incidents," Jones said on Tuesday's episode of Mic Dispatch, "I know after two days, some families can't even stand this fight. We have to be the one to keep that light constantly burning."
West's death occurred about a year before the Black Lives Matter movement began drawing global attention to other police-involved deaths, including Michael Brown in Ferguson, Missouri; Eric Garner in Staten Island, New York; Tamir Rice in Cleveland; and Freddie Gray in Baltimore. The desire for justice doesn't fade when a victim's name is no longer a trending news topic, Jones said.
"When those cameras stop rolling, that's when I start rolling even harder," she added. "I feel compelled to show people how to fight, to show you that we are more than hashtags and body bags."
Check out episode 17 of Mic Dispatch above — only on Facebook Watch.
To catch future episodes of Mic Dispatch, follow Mic Dispatch on Facebook Watch. For more stories about the show, visit the Mic Dispatch collections page.