Mayor of Louisiana town bans Nike purchases, says company chose to promote, sell a political message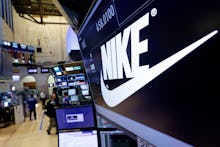 The mayor of a suburban New Orleans town whose memo barring city boosters from buying or using Nike products went viral over the weekend said his aim is to keep taxpayer money from supporting the company's political messaging.
"Effective immediately all purchases made by any booster club operating at any Kenner Recreation Facility for wearing apparel, shoes, athletic equipment, and/or any athletic product must be approved by the director of Parks and Recreation, or his designee," Kenner Mayor Ben Zahn wrote in a memo Thursday to the director of the parks and recreation department. "Under no circumstances will any Nike product or any product with the Nike logo be purchased for use or delivery at any City of Kenner recreation facility."
In a statement posted Monday afternoon on Facebook, Zahn said companies like Nike have the right to advertise how they want, but that people who disagree with the company's message also have a right not to buy their products.
"When a company uses its advertising as its own political megaphone, government should be fair to all of its people and not allow taxpayer dollars to be used to help that company push its own political agenda," Zahn wrote in an emailed statement.
"I applaud Nike's message of inclusion and encouragement for everyone to be their best and dream big. I also recognize that Nike, in its zeal to sell shoes, chose to promote and sell a political message."
Zahn said the ban does not affect local citizens who want to wear Nike apparel.
"Some have asked if people will be allowed to wear Nike apparel on city playgrounds," Zahn wrote. "The answer to that is ... of course. My internal memo draws the line on letting companies profit from taxpayers by espousing political beliefs."
Kenner City Councilmember Gregory Carroll said Sunday he knew nothing about Zahn's Nike ban plans, with which he adamantly disagrees.
"It is in direct contradiction of what I stand for and what the City of Kenner should stand for," Carroll wrote on Facebook. "I am 100% AGAINST this decision. I will meet with the Mayor and other Council members in an effort to rescind this directive. I will keep the citizens of Kenner, and the Greater New Orleans area informed as we move forward."
Zahn's statement comes a week after Nike unveiled its 30th anniversary "Just Do It" ad campaign, starring sidelined NFL quarterback turned social justice activist Colin Kaepernick.
In 2016, the 30-year-old's kneeling protest against police brutality during the San Francisco 49ers pregame national anthem performances sparked the #TakeAKnee movement that sent political shockwaves through the sports world, putting the NFL at the center of the nation's culture war.
Supporters around the world, including fellow athletes, veterans and police officers, started taking a knee in solidarity with Kaepernick during their own sporting events and political protests. Kaepernick's opponents, however, characterized his actions as anti-military and anti-police, even though he's spoken out in support of both soldiers and noncorrupt officers on multiple occasions.
Kaepernick remains unsigned since leaving the 49ers to become an unrestricted free agent in 2017 and hasn't played in an NFL game in almost two years. Kaepernick's lawsuit against the NFL for alleged collusion to keep him out of the league because of his activism survived summary judgment in August.
#NikeBoycott started trending not long after Kaepernick tweeted an announcement about his new partnership with the brand. Some of his critics posted videos of themselves burning their Nike shoes and clothes in response to the ad campaign.
Many of his supporters, on the other hand, were pleased with Nike's support of the socially conscious star and helped fuel a 31% online sales increase from Sept. 2 to Sept. 4, according to Edison Trends. Investors have been bullish on Nike stock after a brief dip in price the day after the ad campaign was announced.