Hundreds attend Botham Jean's memorial service in Dallas: "To know Botham was to love Botham"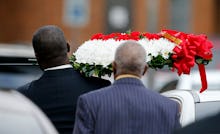 One by one, tearful mourners passed Botham Shem Jean's open casket in the sanctuary of Greenville Avenue Church of Christ in Richardson, Texas, on Thursday.
His loved ones remembered him as a God-fearing, devout Christian who lived a loving and peaceful life in stark contrast to the violent way he died seven days ago.
"I know today that we are sad, I know that our hearts are heavy," Botham's friend and minister Michael Griffin said during the ceremony. "But we must realize and understand that Botham was a child of God. ... To know Botham was to love Botham. Botham loved God. He loved to sing about God. He loved the work and the ministry of the church."
Jean was home alone on Sept. 6 when Dallas police officer Amber Guyger allegedly entered his apartment thinking it was her own before shooting him to death. She reportedly thought he was a burglar.
The National Review has called the incident "the worst police shooting yet," as Jean's name joins a list of hundreds of other Americans killed every year by law enforcement officials who rarely serve prison time for those homicides.
In a prayer before Jean's eulogy, David Wilson reminded the congregation that Jean was more than a hashtag.
"Even in the violence and senselessness of his death, we are reminded that he was your gift, fearfully and wonderfully made," Wilson said, "not a hashtag, not a blurb, not a tweet, but your son, a prince in your kingdom."
Shem's family told CBS News the 26-year-old risk assurance associate at PricewaterhouseCoopers didn't know Guyger prior to their fatal encounter, dispelling false rumors circulating on social media that the two may have been dating.
Guyger told investigators Jean ignored her verbal warnings before she drew her handgun and fired two shots, one of which hit Jean in the chest.
The Washington Post reported Texas police officers have no duty to retreat when confronted with potential violence. They also have the right to use deadly force when making an arrest if they reasonably believe it's "immediately necessary" or that "not doing so would create a substantial risk that the person kills or seriously injures another."
The state also has its own controversial Stand Your Ground law, which gives civilians the legal right to defend themselves and their property against a perceived threat.
"Juries show a lot of deference to officers for the use of deadly force," South Texas College of Law Houston law professor Kenneth Williams told the Washington Post. "They're typically sympathetic to police."