This Week in Food and Travel: Kal Penn wants you to try the vegetarian burger that "bleeds"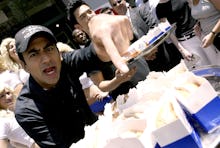 From quinoa to falafel, veggie burgers come in all shapes and sizes, though a patty made of beets and beans can't always compare to that unparalleled taste of a hamburger. But Kal Penn, the actor-turned-White-House-official-turned actor, wants to convince you otherwise and prove that White Castle's latest take on the veggie patty, a plant-based burger made to "bleed," is worth a bite.
In other news, Mic explored the outdoorsy, boozy and all-around adventurous appeal of adult summer camps, why potato chips are being threatened and how pesticides are creeping into your cannabis.
Fun fact: "Kumar" was actually a vegetarian when filming his well-known flick 14 years ago. Mic spoke with the actor about how pulled off eating vegetarian in a movie about burgers, and why he's ditching meat again.
A three-day weekend of glamping and adventure could be just the thing to reset. And if not, there's plenty of ice cold beer too.
And it's all thanks to climate change. High temperatures and dry weather are expected to wreak havoc on Europe's potato chip supply. Is nothing sacred?
According to a study by California's Bureau of Cannabis Control, hundreds of marijuana samples contained unacceptable levels of pesticides, mold and bacteria, like E. coli and salmonella.