Anti-Defamation League wants people to stop freaking out about that alleged white-power hand sign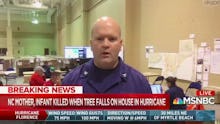 The U.S. Coast Guard staff member who flashed an alleged white-power hand sign during a Hurricane Florence broadcast on MSNBC will remain suspended until officials can determine his motives, according to Coast Guard officials.
"As to the individual's intent, we are unsure, but he demonstrated exceptionally poor judgment regardless," Coast Guard Lt. Amy Midgett said Tuesday in an emailed statement. "Our investigative service will manage the investigation and the Coast Guard will continue to focus all of our efforts on responding to the impacts of Florence."
The controversy began Saturday when a Coast Guard staff member in South Carolina was caught on camera holding up three fingers with his index finger and thumb touching — a signal that started as a trolling hoax on 4Chan but is now often interpreted as a white supremacist hand gesture.
The incident sparked a minor social media uproar. And sometimes, the "OK" signal is indeed code for, "I'm down with white nationalism." But sometimes, it's innocent, or merely used to troll people, according to the Anti-Defamation League.
"The 'OK' hand sign has been used by people from the alt-right and it has been used by white supremacists," Mark Pitcavage, senior research fellow for the ADL's center on extremism, said during a recent phone interview. "But when most of them are using it, it's not to signify anything so much as to trigger people."
The three-fingered gesture is commonly used by the Three Percenters, a decentralized, anti-government militia movement whose members were pictured with Charlottesville, Virginia, "Unite the Right" rally participant Michael Ramos at a June 2017 anti-Muslim "March Against Sharia" in Atlanta.
Also photographed with the Three Percenters that day was pro-Trump Georgia state Sen. Michael Williams, who told CNN in August that he'd have no problem if former White House staffer Omarosa Manigault released an audio recording of Trump saying "n*gger."
Over the weekend, the Coast Guard removed the offending staff member from duty after reports of the incident went viral, saying his actions "do not reflect those of the United States Coast Guard."
But Pitcavage said it's impossible to conclude with so little information what the staff member's intentions were in using the hand sign.
"The person has not explained the rationale," Pitcavage said. "No one from the Coast Guard has explained the rationale behind it. There are so many possibilities. I don't think anyone should leap to any conclusions."
Saturday's incident is just the latest in a string of alleged white-power hand sign controversies. White House staffer Zina Bash generated outrage on Twitter on Sept. 4 when she appeared to flash the sign during a Senate confirmation hearing for U.S. Supreme Court judicial nominee Brett Kavanaugh, who Bash used to work for.
Bash's mother is from Mexico, her father is Jewish and her grandparents were Holocaust survivors, according to Bash's husband, U.S. Attorney John Bash, who tweeted in his wife's defense after the story broke.
"We of course have nothing to do with hate groups, which aim to terrorize and demean other people — never have and never would," John Bash tweeted, according to Vox.
Saturday's Coast Guard case wasn't the first time a government employee has been disciplined for using the hand sign. In July, four police officers in Jasper, Alabama, were suspended for making upside down "OK" signals in a photo taken by a local news photographer.
But the ADL continues to urge caution.
"The most important thing to understand is, the 'OK' gesture is not a reliable indicator of white supremacy," Pitcavage said. "No one should make any assumptions about anyone using such a gesture being a white supremacist unless there are other indicators of white supremacy in that same context."