Botham Jean supporters arrested at Dallas Cowboys game stuck in jail while Amber Guyger walks free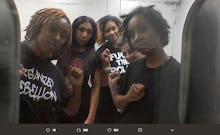 Nine protesters arrested Sunday for blocking entry to a Dallas Cowboys game were still in police custody Monday afternoon, angering their families and supporters.
Lelani Russell, 25; Miracle Freeman, 29; Michael Lowe, 38; Dion Williams, 29; Stephanie Briant, 29; Davante Peters, 25; Darryl Burnham, 31; Melissa Perry, 33; and Arminta "Cleo" Jeffries, 25, were handcuffed outside AT&T Stadium in Arlington, Texas, and taken to jail, according to local reports and witnesses.
The detained activists were demonstrating in support of Botham Shem Jean, a black man who was fatally shot in his apartment Sept. 6 by Dallas police officer Amber Guyger. Investigators say Guyger entered Jean's home thinking it was hers and shot Jean after allegedly mistaking him for a burglar.
Three days later, Guyger was arrested and charged with manslaughter. She was released from Kaufman County Jail less than two hours after posting a $300,000 bond.
There are stark differences in the way Sunday's protesters have been treated compared to Guyger, civil rights attorney Lee Merritt, who helped organize the demonstration, said in an interview Monday.
"At this point, the protesters' ordeal has lasted 15 hours," Merritt said. "These activists were arrested for blocking an entrance. Amber Guyger was arrested for killing a man and she was released within two hours."
Merritt said demonstrators arrested for nonviolent acts of protest in Dallas are usually charged with class C misdemeanors that allow them to be released from jail immediately after posting bond. In this case, however, Merritt said Jean's supporters were charged with class B misdemeanors, which require arrestees to be held indefinitely until they appear before a judge.
It's all part of the growing controversy that's defined the Jean case from the outset. Dallas police and KDFW, a local Texas news station, were widely criticized Thursday after the station reported the investigators who executed a search warrant at Jean's home the night he was killed had found marijuana in his apartment.
Jean's mother, Allie Jean, told reporters Friday she believes police are trying to smear her son's name.
"The information received yesterday is, to me, worse than the call that I got on the morning of Friday, Sept. 7," Jean said, as quoted by the Dallas Morning News. "To have my son smeared in such a way, I think shows that the persons who are really nasty, who are really dirty and are going to cover up for the devil, Amber Guyger."
Guyger has been out on bond since shortly after her arrest. Merritt said the activists arrested Sunday are facing misdemeanor charges of obstructing a pathway.