Dak Prescott takes heat from Dallas Nine protester after Cowboys game arrests: "He's so wack"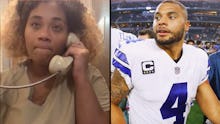 Arminta "Cleo" Jeffryes wants Dallas Cowboys quarterback Dak Prescott to realize some things are bigger than football.
In a phone interview Wednesday, after spending 2 1/2 days in jail for protesting outside a Cowboys game over the weekend, the 25-year-old Lyft driver and self-described "radical" activist criticized Prescott for not following the example set by Colin Kaepernick.
"He's so wack for that," Jeffryes said of Prescott. "As a black man you should want to speak out against police brutality and racial injustice. You have a black father. One day you will have black children."
Prescott told reporters in July that he'd never protest during the national anthem and said social justice demonstrations at sporting events negate the "joy and the love that football brings" to many Americans.
"The game of football has always brought me such a peace, and I think it does the same for a lot of people," Prescott said. "When you bring such a controversy to the stadium, to the field, to the game, it takes away from that."
Jeffryes, a New York City native, is one of the Dallas Nine protesters arrested Sunday night for allegedly blocking traffic while marching in the middle of Randol Mill Road near AT&T Stadium in Arlington, Texas.
The group was demonstrating in response to the recent police shooting deaths of Oshae Terry and Botham Shem Jean. Their hourlong blockade delayed several frustrated NFL fans from entering the stadium parking lot ahead of the Cowboys' home opener against the New York Giants.
The incident drew national attention after the nine protesters were kept in Dallas' Tarrant County jail for two days, a week after Dallas police Officer Amber Guyger — Jean's killer — walked free less than two hours after posting a $300,000 bond.
Jeffryes said she believes authorities were trying to send protesters a message to discourage others from disrupting Cowboys games.
"They're trying to do a scare tactic, but luckily ain't nobody scared," she said. "We can't disclose the next move, but we will be out again. Be on the lookout."
Jeffryes has spent much of the last four years protesting against police who have killed people like Eric Garner and Akai Gurley. She moved to the Dallas metro area in 2017 to be with her boyfriend, Mike Lowe, and took a break from street protests around the time her 1-year-old son was born.
That break ended when Jean was killed Sept. 6 after Guyger allegedly entered Jean's apartment, thinking it was her own, and shot him after mistaking him for a burglar.
"We're being killed for being at home," Jeffryes said. "Botham Jean was literally inside his own house and next thing you know, he's dead. This shit is bigger than freaking football. Football don't matter no more."
On Wednesday, Jeffryes joined Jean's cousin, Pertula Redd, in calling on Dallas Cowboys players to take a knee during their pregame national anthem in solidarity with Jean's supporters at the start of the team's next game in Seattle against the Seahawks.
"For just a moment, I ask you to forget about race, forget about the stars and the stripes and forget about the anthem because all of these things — like borders, race and nationality — are man-made constructs," Redd wrote in a Facebook post Sunday. "Take a knee for Botham to peacefully protest police brutality. Take a knee for Botham because his life is more valuable than cloth and words."
Jeffryes had especially choice words for Prescott and Cowboys owner Jerry Jones.
"Everybody in the world already knows about the conversations Dak Prescott has had in the media," Jeffryes said. "Jerry Jones has also come out to say he will be punishing anybody who kneels or takes a knee during the national anthem. But the protest has never been about trying to disrespect the country. It's about taking a stand for what you believe in, so that's what we did."