Amber Rose on Kavanaugh allegations: "No woman wants to be famous for being the girl that got raped"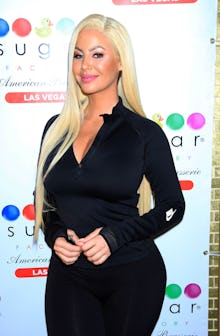 Model and activist Amber Rose, who has used her SlutWalk platform to raise awareness around rape culture, slut shaming and gender inequality, is the latest high-profile voice to speak out about sexual assault allegations against Supreme Court nominee Brett Kavanaugh.
On Sept. 14, news broke that Sen. Dianne Feinstein forwarded a letter to the FBI with details alleging Kavanaugh attempted to sexually assault a female classmate at a party while they were both attending high school in Maryland. On Sept. 16, alleged victim Christine Blasey Ford, a research psychologist and professor at Palo Alto University, spoke publicly about the accusations, citing misinformation in the media as a reason she came forward. The encounter occurred around 1982, when she was 15 and Kavanaugh was 17, the Washington Post reported. Kavanaugh denied the accusations. Ford reportedly received death threats in the wake of these allegations. Ford has asked the FBI to conduct a full investigation of the allegations before she testifies before the Senate Judiciary Committee.
"What people fail to realize is that no woman wants to be famous for being the girl that got raped or sexually assaulted by that famous guy, or that politician," Rose said in a phone interview Wednesday. "Nobody wants to live that."
Rose is planning her fourth annual Amber Rose SlutWalk, set to take place in downtown Los Angeles on Oct. 6. The festival raises awareness around the implications of rape culture, and this year it will especially focus on educating and mobilizing young voters ahead of midterm elections in November.
Rose said she thinks citizens should be highly concerned that accusations of sexual misconduct have been made against a Supreme Court justice nominee.
"Right now what we need to do is protest against it [and] raise awareness to the [Kavanaugh] allegations," Rose said.