WhatsApp has hired a grievance officer to address fake news in India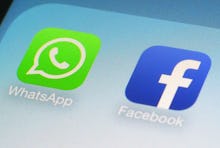 WhatsApp has hired a grievance officer, Komal Lahiri, to address misinformation spread on the platform in India, according to LiveMint.
The messaging app, which is used by more than 1.5 billion people worldwide, will rely on Lahiri to limit fake news on the platform, especially content that leads to violence. WhatsApp users in India (of which there are 200 million) are able to reach out to Lahiri via email as well as traditional mail to flag this type of content. Lahiri, who will be based in the United States, hails from Facebook, formerly working on the site's community standards and content moderation.
WhatsApp has struggled with fake news that often incites violence for a while. The deaths of at least 30 people between July 2017 and July 2018 have been traced back to the platform. In Mexico, WhatsApp was used to spread rumors and fake news during an election. In Brazil, after an outbreak of yellow fever, the communication tool was used to dissuade people from taking the vaccine. In July, the app assigned limits on how much certain messages could be forwarded after news spread that lynch mobs had killed more than a dozen people months before.
WhatsApp is owned by Facebook, which has encountered similar problems in recent years. Aside from Russian bots and fake news that influenced the 2016 election, Facebook was accused of giving a platform to those who wanted to commit violent acts in places like Sri Lanka and Myanmar. In July, Facebook took steps to reduce false information that led to violence in these countries by partnering with local civic society groups to help identify misleading content, the New York Times reported. The new rules were folded into Facebook's community standards that were already in use.