Bill Cosby's publicist compares him to Jesus, blames "racism" and "sex war" for prison sentence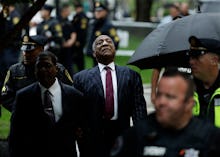 At least 60 women have accused Bill Cosby of sexual assault, with one 2004 case, Andrea Constand's, leading to Cosby's conviction in April on three counts of aggravated indecent assault.
The 81-year-old comedian was sentenced Tuesday to three to 10 years in prison and declared a "sexually violent predator," relegating him to a lifetime on a sex offender registry.
Yet Cosby's publicist, Andrew Wyatt, maintained his client's innocence in a bizarre afternoon press conference Tuesday in Norristown, Pennsylvania. Among other proclamations, Wyatt claimed Cosby's trial was the "most racist and sexist in the history of the United States," comparing the actor to embattled Supreme Court nominee Brett Kavanaugh and saying both men are victims of a "sex war."
"This has been the most racist and sexist trial in the history of the United States," Wyatt said, reading a prepared statement from his cellphone while standing under an umbrella in the pouring rain. "Dr. Cosby has been one of the greatest civil rights leaders in the United States for over the last 50 years. He has also been one of the greatest educators for men and boys over the last 50 years.
"This was not pointed out to the jury or allowed in court because the racist and sexist mass media was attacking and denouncing Dr. Cosby whenever his lawyers even hinted there was racism and sexism present."
Wyatt went on to claim that three of the psychologists who testified against Cosby during his trial, including Kristen Dudley, were "white women" who "make money off of accusing black men of being sexual predators."
Wyatt then compared Cosby's treatment by the justice system to what Kavanaugh — who has been accused of sexual misconduct by at least two women — currently faces on Capitol Hill.
"What is going on in Washington today with Judge Kavanaugh is part of that sex war that Judge [Steven T.] O'Neill, along with his wife, are a part of," Wyatt said.
According to CNN executive producer David Gelles, Wyatt later added, "They persecuted Jesus and look what happened."