The new 'Creed II' trailer is here and it's giving us chills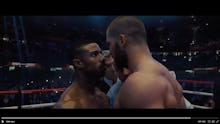 Ghosts of Rocky IV are haunting Michael B. Jordan's Adonis character in the latest trailer for Creed II.
The new promotional clip, shared on Wednesday, makes several very clear references to the 1985 Rocky sequel, in which Adonis's father, Apollo Creed (Carl Weathers), was killed in the ring by Ivan Drago (Dolph Lundgren).
Judging from the trailer, Adonis seems destined to repeat the same mistakes as his legendary father: He's planning to square off against Florian Munteanu's Viktor Drago, son of Ivan, despite warnings from Sylvester Stallone's Rocky.
"I'm taking the fight," Adonis says in the trailer. "I ain't gotta choice."
"That's the same thing your father said and he died right here in my hands," Rocky responds.
At 6'4" tall, Munteanu towers over the 6-foot Jordan, a chill-inducing dynamic that's sure to remind longtime fans of Lundgren's character standing over Weathers's. Elsewhere in the trailer, we also catch glimpses of Tessa Thompson's Bianca Porter; Bianca and Adonis's baby; and Phylicia Rashad's Mary Ann Creed, Adonis's stepmother. Kendrick Lamar's "Loyalty" provides the soundtrack, which is pretty much a perfect pick.
Ryan Coogler, the director who kicked off this next-gen take on the Rocky franchise with 2015's Creed, didn't return to direct, but he did serve as executive producer. Instead, Steven Caple Jr. helmed the sequel. His previous directing credits include the 2016 film The Land and episodes of TV's Grown-ish.
Creed II hits theaters just in time for Thanksgiving, on Nov. 21.