Fox News host on Christine Blasey Ford's Kavanaugh testimony: A "disaster for Republicans"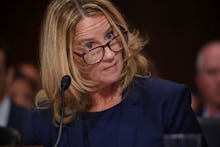 Christine Blasey Ford's testimony about her alleged sexual assault at the hands of Supreme Court nominee Brett Kavanaugh in the 1980s has been devastating for the GOP, according to pundits on Fox News.
"This is a disaster for the Republicans," Fox News Sunday host Chris Wallace said Thursday during the network's coverage of the hearing. "Nobody could listen to her deliver those words and talk about the assault and the impact it had on her life and your heart not go out to her."
GOP senators on the Senate Judiciary Committee sat largely silent Thursday as Rachel Mitchell, the Maricopa County, Arizona, prosecutor they chose to question Ford in their place, asked Ford probing questions about the Maryland house gathering in the early 1980s where the alleged assault took place.
"You have to believe that the Republican senators right now are asking themselves whether or not this was a good idea, whether or not they have robbed themselves of their opportunity to ask pointed questions in a way that perhaps might be more compelling," The Story host Martha MacCallum said of the senators' decision not to question Ford themselves.
MacCallum said that Mitchell's slow, methodical questioning "could take seven hours if she didn't have to do it in these chopped up bits of five minutes."
President Donald Trump, who has publicly questioned the credibility of Ford's allegations, remained silent on Twitter on Thursday, but the president's son, Donald Trump Jr., questioned Ford's fear of flying, which she discussed by way of explaining why she chose to drive to Washington for Thursday's hearing instead of catching a flight.
"I'm no psychology professor, but it does seem weird to me that someone could have a selective fear of flying," Trump Jr. tweeted, alluding to Ford's wide array of vacation destinations. "Can't do it to testify, but for vacation, well, it's not a problem at all."
Ford, meanwhile, was adamant that Kavanaugh was the man who tried to rape her decades ago, despite conservatives' efforts to paint her as confused about her assailant's identity.
"They were laughing with each other," Ford said of Kavanaugh and his alleged accomplice, Mark Judge, who Ford says was in the room when Kavanaugh forced himself onto her. "I was underneath one of them. [it was] two friends having a really good time with one another."
"How certain are you that it was Brett Kavanaugh that attacked you?" judiciary chairman Sen. Chuck Grassley (R-Iowa) asked Ford.
"100%" she replied.