Eric Reid just signed with the Carolina Panthers. Did Kaepernick's success with Nike play a role?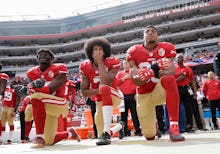 Eric Reid, the outspoken former Pro Bowl safety who protested with Colin Kaepernick in 2016, has inked a one-year deal with the Carolina Panthers, the team announced Thursday.
Like Kaepernick in 2017, Reid attracted little-to-no interest from NFL teams when he entered free agency earlier in 2018 — which he alleges is because he kneeled during the national anthem throughout the 2017-2018 season to protest racism and police brutality.
Kaepernick and Reid have filed a joint lawsuit against the league alleging a conspiracy among NFL teams to keep them unsigned due to their activism.
Now, less than a month after Nike unveiled a controversial — and lucrative — ad campaign featuring Kaepernick, the Panthers are bringing Reid aboard to bolster a position that was weakened when starting safety Da'Norris Searcy on Sunday got his second concussion in a month and was placed on the injured reserve list, according to ESPN.
Kaepernick went on Twitter to celebrate his friend and former teammate's new deal.
"Congrats [to] my brother @e_reid35," he tweeted. "He was the the [first] person [to] kneel alongside me. Eric is a social justice warrior, continues to support his [family] and communities in need."
President Donald Trump and conservative sports writers have claimed the anthem protests Kaepernick and Reid spearheaded have hurt the NFL's bottom line, pointing to an ongoing drop in NFL ratings since the #TakeAKnee movement began.
But industry analysts have suggested other factors, including changes in consumer viewing habits and cord cutting, caused the league's ratings to decline. Regardless, Kaepernick's NFL jersey was the league's best-seller in 2016, and the success of his Nike campaign demonstrates his ongoing popularity with many sports fans.
Still, Panthers general manager Marty Hurney said signing Reid has nothing to do with his protests or his collusion lawsuit against the NFL.
"This was a football decision," Hurney told ESPN on Thursday. "We made this decision based on the fact [Reid] is a good football player. He's played at a very high level the last few years. We think he can come in and help us win games."
The Panthers may be the ideal landing spot for Reid. Team owner David Tepper bought the franchise from Jerry Richardson in July after Richardson was prompted to sell after a sexual harassment scandal surfaced in 2017.
Tepper once called Trump — a vocal critic of the #TakeAKnee protests — "the father of lies" and has condemned those who call NFL players unpatriotic for kneeling during the national anthem.
"It's the biggest pile of bull-dingy ever," Tepper told CNBC earlier in September. "These are some of the most patriotic people and best people. These are great young men. It just makes me so aggravated and angry. OK? It's just wrong. It's just dead wrong."
Reid did not agree to dismiss or settle his lawsuit against the NFL as part of his deal with the Panthers, according to NBC Sports.