Mic Daily: What you need to know from Christine Blasey Ford's and Brett Kavanaugh's testimonies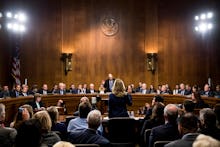 Welcome to Mic Daily: Mic's newsletter that cuts through the noise and lands in your inbox every weekday. We carefully curate each edition to send you a cross section of our most vital stories of the day.
Today's edition focuses on the hearings surrounding Supreme Court nominee Brett Kavanaugh's confirmation hearings — including testimony from Christine Blasey Ford, who has accused Kavanaugh of sexual assault.
Want more entertainment news in your inbox? Sign up for Hype Daily — Mic's morning entertainment briefing. It's got all the news you need to start your day.
Ford used her knowledge of science and psychology to describe her experience and the impact it's had on her life — a tactic that helped build her credibility as a witness at Thursday's Senate hearing in Washington, D.C.
Senate Judiciary Committee chairman Chuck Grassley, the Iowa Republican overseeing the hearing where Ford detailed her sexual assault allegations against Kavanaugh, came under fire Thursday for consistently interrupting women on the committee.
From the moment Ford began speaking before the Senate Judiciary Committee on Thursday, it was clear she was no ordinary victim.
When asked by Sen. Patrick Leahy (D-Vt.) what she remembers most about the assault, Ford did not hesitate: "Indelible in the hippocampus is the laughter, the uproarious laughter between the two — their having fun at my expense."
Kavanaugh came out swinging in his opening remarks, defending himself against Ford's sexual assault allegations and launching partisan attacks against Senate Democrats, whom he called an "embarrassment" and warned "what goes around, comes around."
Sen. Lindsey Graham (R-S.C.) lashed out at Democrats in a fiery statement Thursday during a hearing on Supreme Court nominee Brett Kavanaugh's sexual assault allegations.
"This is the most unethical sham since I've been in politics," Graham said as Kavanaugh testified over his sexual misconduct accusations. "This is not a job interview. This is hell."