This Week in Sports and Social Justice: NJ mulls pulling its Nike investments, Eric Reid gets a deal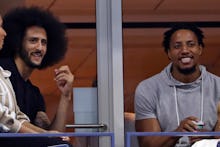 Welcome to Mic's new weekly roundup of news coverage related to activism in the world of sports, both on and off the field. Check us out every week for a summary of the latest headlines covering the intersection of sports and social justice issues.
Here are some of the latest headlines.
New Jersey pension fund mulls Nike divestment over Colin Kaepernick ads
New Jersey's State Investment Council moved to divest its public pension funds from Nike stock, which could be a sign of bigger battles to come for the sports apparel company after the National Association of Police Organizations called for a boycott earlier in September.
The council members in charge of the state's $77 billion public worker pension fund voted unanimously Thursday to study its Nike holdings after Marty Barrett, a government representative for the state's retired police officers and firefighters, asked the council to consider pulling its sizable investments.
At a meeting Thursday, Barrett said Kaepernick's kneeling protests during the 2016 NFL season disrespected the military and first responders who were killed in connection with 9/11. He also said Nike's choice to make Kaepernick a face of its 30th anniversary "Just Do It" campaign was "one of the worst business decisions of all time."
In reality, Nike's stock price has continued to trend upward in spite of, or perhaps because of, the Kaepernick-related uproar.
However, other state pension funds that serve major police and firefighter organizations could soon join New Jersey in potentially divesting with Nike. Some elected officials' efforts to ban Nike purchases involving public tax dollars were scuttled earlier in September due to major public backlash and potential First Amendment violations.
Russian-backed social media accounts were gaslighting calls for Nike boycotts
It turns out a lot of those tweets calling for Nike boycotts over the company's Kaepernick endorsement deal came from Russian trolls, not American patriots, according to a new report from Wired.
Social media analysis firm Graphika, which monitors state-sponsored disinformation, said the calls for a Nike boycott that erupted on Twitter following the Kaepernick investment were actually amplified by Russian campaigns designed to sow seeds of discord among Americans.
Pro-Trump Twitter account holders started the hashtags calling for Nike boycotts, according to Graphika, but Russian Twitter accounts boosted the reach of the campaigns with the help of extensive media coverage of people burning Nike shoes.
Those Russian accounts were "'densely connected' to known Internet Research Agency accounts that have previously targeted the U.S. democratic process, according to Wired. Some of these operatives target Trump supporters, while others have targeted supporters of the Black Lives Matter movement.
"Our understanding of how the Russians work — not just in the American political environment but in Europe and elsewhere — is they embed these sock puppet assets into the natural political landscape of the country they are trying to influence," Graphika CEO John Kelly told Wired. "They will strategically, when it matters to the Russians, carry a Russian message and inject that agenda. But most of what they're doing is mimicry."
In other words, Russia is using Americans' political tribalism and hate for one another, along with Trump supporters' hate for Kaepernick, to threaten our collective national security. Marinate on that one.
Anthem kneeler Eric Reid signs with the Carolina Panthers
On a somewhat related note, Kaepernick's close friend and fellow anthem kneeler Eric Reid signed a new deal with the Carolina Panthers on Thursday. Reid is a Pro Bowl safety who went unsigned after becoming a free agent earlier in 2018.
Like Kaepernick in 2017, Reid attracted little-to-no interest from NFL teams when he entered free agency — which he alleges is because he kneeled during the national anthem throughout the 2017-2018 season to protest racism and police brutality.
Kaepernick and Reid have filed a joint lawsuit against the league alleging a conspiracy among NFL teams to keep them unsigned due to their activism.
The Panthers are bringing Reid aboard to bolster a position that was weakened when starting safety Da'Norris Searcy on Sunday suffered his second concussion in a month and was placed on the injured reserve list, according to ESPN.
The team's general manager, Marty Hurney, said signing Reid has nothing to do with his protests or his collusion lawsuit against the NFL.
"This was a football decision," Hurney told ESPN on Thursday. "We made this decision based on the fact [Reid] is a good football player. He's played at a very high level the last few years. We think he can come in and help us win games."
Miami Dolphins player Kenny Stills calls for NFL teams to sign Kaepernick
In response to Reid's signing, Miami Dolphins wide receiver Kenny Stills, one of two NFL players who still routinely kneel during the national anthem, renewed calls on Thursday for Kaepernick himself to be signed to an NFL team.
Stills told ESPN he'd recently spoken with Kaepernick, who "still wants to play" football and "deserves to play."
"I'm not sure why a team hasn't signed him yet," the fifth-year NFL veteran said.
Check back next week for Mic's latest roundup on the intersection of sports and social justice politics.