Kanye West goes MAGApalooza 2.0 on social media after his pro-Trump rant gets him booed on 'SNL'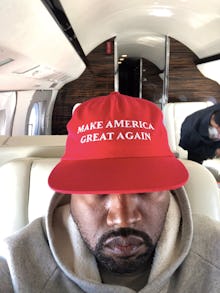 Anyone who thought Kanye West's pro-Trump outburst earlier this year was a momentary lapse in judgement received a sobering dose of reality on Saturday and Sunday.
The "free-thinking" artist formerly known as Yeezy (he goes by just "Ye" now) went on an awkward pro-Trump tirade as the credits rolled on last night's episode of Saturday Night Live after performing his viral hit "I Love It" dressed as a human-sized bottle of Perrier water during the show alongside Lil' Pump, who was dressed as a bottle of Fiji water.
After ending the broadcast by performing "I Feel Free," as the credits rolled, Ye threw on a Make America Great Again hat, drawing boos and laughter from the studio audience.
"You see? They're laughing at me," Ye said during his performance. "You heard it? They scream at me. They bully me. They bullied me backstage. They said, 'Don't go out there with that hat on.' They bully me and then they say I'm in the Sunken Place. You wanna see the Sunken Place? OK, I'ma listen to y'all now. Or I'ma put my Superman cape on and say, 'You can't tell me what to do.'"
During his rant, Kanye expressed some of the same views recently iterated by his pro-Trump black conservative protege Candace Owens, including the assertion Democratic policies throughout American history were designed to keep black Americans under control.
NBC cut Ye's rant off after the credits finished rolling, a move that conservatives on social media characterized as an attempt to censor West and the litany of conservative talking points he echoed during his speech.
"I can't even put into words how difficult it is, how much courage it takes, to be a black conservative and also be in Hollywood and in fashion," Turning Point USA cofounder Charlie Kirk told Fox News Sunday. "What makes America the greatest country in the world is free thinking. This is a cultural moment where, are we going to be free thinkers or are you going to conform to one ideology? And that's not diverse whatsoever."
Ye wasn't done after SNL.
He took to social media Sunday wearing his Make America Great Again hat once again and declaring his support for Trump's proposed policy of ending the outsourcing of American jobs.
The rapper also said he wanted to abolish the 13th Amendment, which ended slavery in 1865.
"This represents good and America becoming whole again," Ye said, referencing his MAGA hat. "We will no longer outsource to other countries. We build factories here in America and create jobs. We will provide jobs for all who are free from prisons as we abolish the 13th amendment. Message sent with love."
Ye later clarified he wants to "amend" not abolish the 13th amendment.
"We apply everyone's opinions to our platform," he added.
Kanye's contrarian impulse to push back against the cultural grain is part of what's led him to become a cultural icon, but his latest pro-Trump antics drew added scorn from progressive Twitter users.
"There's nothing more maddening than debating someone who doesn't know history, doesn't read books, and frames their myopia as virtue," actor Chris Evans tweeted Sunday.
Coincidentally, Ye's latest album, "Yandhi," is set to be released soon.