Abortion access is limited, but this traveling doctor is determined to provide care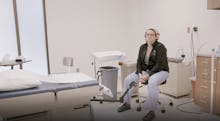 It's 11:30 p.m. in St. Louis, and Dr. Colleen McNicholas' flight is delayed. She's headed to Oklahoma, just like she does each month, to work at an abortion clinic that has been closed for a week for lack of a doctor. Now 60 patients are on the day's schedule, waiting for her to provide care.
Flight delays and travel hiccups aren't new to McNicholas. She travels an average of 400 miles almost weekly to one of four clinics in three different states, where the clinics rely solely on traveling doctors to stay open.
This is what abortion care looks like in the South and the Midwest, where conservatives have successfully passed anti-abortion laws that limit access and make abortion both more difficult and even more dangerous to practice. Many worry if Brett Kavanaugh were to be confirmed to the Supreme Court, it could soon get even more difficult for doctors like McNicholas to help these patients.
Conservative states like Oklahoma, Kansas and Missouri, where McNicholas works, are testing grounds for anti-abortion-rights legislation. Currently there are a number of cases in court that place even more restrictions on abortion care.
Take Oklahoma, where anti-abortion-rights activists tried to get a law passed that would require a doctor who has admitting privileges at a hospital within 30 miles to be present for any abortion. The law would've ruled out McNicholas' ability to do her job. But the court found that the law violates both the U.S. and Oklahoma constitutions.
Should Brett Kavanaugh be confirmed, anti-abortion-rights groups will work to elevate these kind of cases to the Supreme Court in the hopes that these state-level laws will challenge and begin to chip away at Roe v. Wade, the landmark decision from 1973 that provided people the constitutional right to safe and legal abortion.
For McNicholas, these stakes are the reason she's committed to her work. Often patients are traveling over an hour to access an abortion in the states where McNicholas provides care, due to the limited number of clinics. The conservative attitudes in these states also hamper access and have even led to danger in the past.
"There are many places in the country, particularly conservative states, where providing abortion care can be really challenging because abortion has become so politicized and hostile in many places," McNicholas said in Tuesday's episode of Mic Dispatch. "There's concerns that people who provide abortion care have around safety for themselves or for their children."
And these concerns are based in reality. Take the clinic McNicholas visits in Wichita, Kansas. Trust Women, where the former clinic doctor, George Tiller, was killed in 2009, has also been the site of a bombing, a flood and other violence and threats from anti-abortion-rights protesters for decades.
"Dr. Tiller is the most recent example we have of the consequences of really extreme anti-abortion rhetoric and sort of behavior," McNicholas said. "But for the same reason, it was maybe even more compelling for that to be a clinic that I go to. [It's] really sort of a testament to our movement saying we won't be bullied by you."
McNicholas is one of a small group of providers willing to travel to deliver patient care and, since there are no providers willing to live in the area, patients may have to wait up to a month for care. This can impact both the type of an abortion a person can have and how much it will cost.
A medication abortion, or the abortion pill, can be administered 10 weeks into the pregnancy. Beyond 10 weeks, a patient must have a surgical abortion, which is more invasive and potentially more costly.
McNicholas sees how this delay in care poses a real challenge for her patients.
"Absolutely we see women go from being able to have a medication abortion to not being able to have a medication abortion," McNicholas said. "We see people going from a first trimester procedure to a second trimester procedure and we also see people going from being able to have an abortion to being beyond the legal limit for our state. ... That's maybe one of the hardest parts of my job, is when we have to tell people that we can't take care of them."
For more on abortion access in conservative states, check out episode 23 of Mic Dispatch — only on Facebook Watch.
To catch future episodes of Mic Dispatch, follow Mic Dispatch on Facebook Watch. For more stories about the show, visit the Mic Dispatch collections page.