Kanye West stuns and confuses us all in his latest 'TMZ' interview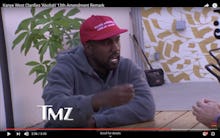 The free-thinking artist formerly known as Kanye West visited TMZ studios in Southern California on Monday wearing a charcoal gray hoodie and his now-signature Make America Great Again hat during an interview with TMZ Live host Harvey Levin.
It was a bizarre Q&A session filled with incoherent anecdotes and awkward long pauses. The gossip site founder prompted Ye to explain his continued support for President Donald Trump and his recent tweets about abolishing the 13th Amendment, which outlawed slavery for all Americans except those who have committed a serious crime.
Yeezy clarified that he was actually talking about amending the 13th Amendment's exception clause for incarcerated individuals.
"Abolish was the wrong language," West told Levin on Monday. "I misspoke by saying abolish. Amend was the right language. What's beautiful about our Constitution is we can amend it... In order to make a freed man a slave, all you have to do is convict him of a crime... There's people getting paid eight cents a week working for companies that are privately owned. A lot of them are first-time offenders."
Abolishing the exception clause and getting rid of private prisons are causes that have been championed by criminal justice reform advocates for years, but neither of them are currently backed by the Trump administration. Under Trump, the federal government has re-instituted policies supporting and expanding the use of private prisons that incarcerate a disproportionate number of black and brown Americans. Trump has also allowed for undocumented children and adult migrants who illegally cross the nation's southern border to be separated and detained in detention centers owned by CoreCivic, formerly known as the Corrections Corporation of America, one of the private prison companies West complained about to TMZ and has rapped about in songs like "New Slaves."
In August, Trump also decided to end his son-in-law Jared Kushner's mission to continue the bipartisan efforts to end mass incarceration that were started under the Obama administration.
Axios reports that Kushner lost a policy fight with Republicans in Congress who decried his prison reform efforts as antithetical to Trump's pro-law and order campaign rhetoric and policies under Attorney General Jeff Sessions. Sessions and Sen. Tom Cotton (R-Ark.) convinced Trump that supporting policies ending mass incarceration won't look good to Trump's white conservative base ahead of the midterm elections.
Those facts appear lost on West, but not on Levin who tried to goad Kanye into explaining how supporting Trump and wearing a MAGA hat isn't counterintuitive to helping black Americans in troubled communities in West's hometown of Chicago.
"Donald Trump has not been a friend of the black community and in many ways has done things that a lot of people see as racist," Levin said. "I don't see how he's done anything good for the black community and frankly nothing but harm. I don't understand how [wearing a MAGA hat] is not a mixed message."
But West insisted working with Trump is better than criticizing him.
"Do you feel people can grow?" West asked. "For someone to grow, they need to know that they got love, that a group of people are leading with love. There's no way to start a dialogue with, 'Fuck you.'"
And yet, derogatory insults attacking both individuals and communities of color are what Trump has often used to define his presidential tenure — characterizing Mexican immigrants as rapists and criminals who bring drugs and crime into the U.S. on the day he launched his presidential campaign; telling police officers it's OK to rough up criminal suspects in a statement that was condemned by law enforcement leaders across the country; allegedly describing Haiti and African nations as "shithole countries," all of which has condemned by just about every major black conservative while simultaneously being cheered and celebrated by neo-Nazis.
Levin challenged West on a few of these points, prompting West to repeatedly pause to think.
"Why don't we go to commercial real quick," Levin said graciously.
"No, we're not going to 'Jimmy Kimmel' this situation," West replied, referencing his most recent interview with the late night talk show host where Kimmel cut to commercial after appearing to stump the rapper with a question about Trump.
"You asked me a serious question and I'm going to take time to answer."
West also announced that his newest album Yandhi, which was supposed to drop on Saturday, is on an indefinite hold while he goes to Africa to record new material.
He said he recently partnered with Cleveland Cavaliers owner and Quicken Loans founder Dan Gilbert to invest in underprivileged communities in Chicago the way Gilbert has done to revitalize parts of Detroit.
The hip-hop legend and fashion designer also dropped another bomb shell — he is negotiating with Colin Kaepernick to have him visit Trump at the White House. Trump has been credited with helping to keep Kaepernick out of the NFL, while characterizing athletes like him, who kneel to protest police brutality during the national anthem, as "son of a bitch" players.
"I've been calling Colin this morning, reaching him so we can bring Colin to the White House and we can remove that 'sons of bitches' statement so we can move forward and keep going," West said, adding that he will never give up on loving Donald Trump.
"We never give up on anyone. We move forward. We give love. We keep going. We keep having the conversation until the conversation turns to love."