Hype Daily: Louis CK performed at the Comedy Cellar again and more entertainment news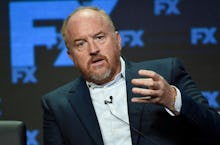 Welcome to Hype Daily, Mic's morning entertainment roundup. Here's everything you need to catch up on in the entertainment world and what to look forward to today. Want to receive this as a daily email in your inbox? Subscribe here.
Good morning readers, rise and shine because it's time for a piping hot batch of fresh entertainment news. Dig in!
Louis C.K. performed yet another surprise set at the Comedy Cellar
Comedian Louis C.K. — who, if you remember, has owned up to reports that he exposed himself to and masturbated in front of female colleagues — performed yet another surprise set at the Comedy Cellar in New York City Sunday night, the New York Times reported.
This new appearance comes five weeks after C.K. performed another unannounced set at the same comedy club. That performance sparked a public backlash, but that apparently didn't stop the Comedy Cellar from having C.K. back on Sunday night.
According to the Times, C.K. did about 20 minutes of material, starting around 10:30 p.m. He took the stage to "wild applause," according to the Times, but the club said two women walked out on the act, which reportedly included jokes about C.K.'s daughter that made some patrons uncomfortable. Still, he left the stage to "a warm send-off" at the end of his set. So yeah, looks like maybe his life hasn't really been ruined after all. Someone please tell Norm Macdonald.
Kanye's new album is delayed and a whole bunch of other stuff
Kanye West is really on a tear. He was supposed to drop a new album over the weekend, but instead he went on a pro-Trump rant on the Saturday Night Live stage and then tweeted that we should "abolish" the 13th Amendment. On Monday, he visited the TMZ studios for an interview that only sort of clarified things.
West explained his tweet about the 13th Amendment was actually prison reform, which we sort of guessed, but he also said a bunch of other things, including he didn't finish his new album, so it's delayed while he takes a trip to Africa, and also he wants to bring Colin Kaepernick together with Trump at the White House. Hmm.
The next season of Black Mirror will have an interactive episode
The next season of Black Mirror sounds like something straight out of, well, Black Mirror. According to a Monday report from Bloomberg, the upcoming fifth season of the Netflix future-horror anthology show, due out in December, will include an episode that will allow viewers to "choose their own storylines."
Seeing as Black Mirror is all about exploring the horrible ways humans use cool technology to serve our terrible impulses, you can bet Black Mirror will incorporate the new tech in some meta way. But Bloomberg reports this episode is part of a larger initiative from Netflix to experiment with "interactive" television. The future is now, I guess.
Crazy Rich Asians is now the highest grossing rom-com in 10 years
This summer's stellar romantic-comedy blockbuster Crazy Rich Asians is now the highest grossing of the past decade, Quartz reported Monday. Since its debut in August, the film has made more than $165 million in the U.S. and Canada alone. That's more than any other rom-com of the past 10 years.
In fact, Crazy Rich Asians is now the sixth highest grossing rom-com in movie history, coming in just under 1998's There's Something About Mary. The all-time highest grossing rom-com, by the way, is 2002's My Big Fat Greek Wedding.
Put this on your radar: Halloween movies
It's October and you know what that means — time for spooky movies. There are tons of scary movies to get you in the spirit of the month, whether your taste tends toward the comically spooky (Beetlejuice) or the straight-up scary (The Shining). If you need some inspiration to get in the mood for Halloween, check out this helpful list of the best Halloween movies of all time from the good film folks at the Brattle Theatre in Cambridge, Massachusetts.