4 members of a white supremacist group arrested for their role in deadly Charlottesville rally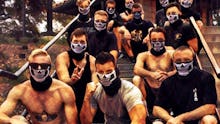 Federal authorities on Tuesday announced they've filed charges against four members of a white supremacist mixed martial arts group who they say came looking for a fight during the deadly "Unite the Right" rally in Charlottesville, Virginia, more than a year ago, the Associated Press reported.
Benjamin Daley, Michael Miselis, Thomas Gillen and Cole White were charged for violating the Riots Act and conspiracy to violate the Riots Act for their role in the violence that erupted in the streets of Charlottesville on Aug. 11 and 12 in 2017.
Investigators said all four men are from California and are members of the Rise Above Movement, or RAM, a California-based alt-right fight club whose members train for street brawls with progressive counterprotesters.
"This is a group that essentially subscribes to anti-Semitic, racist ideology and then organizes, trains and deploys to various political rallies, not only to espouse this particular ideology, but also to engage in acts of violence against folks who are taking a contrary point of view," U.S. attorney Thomas Cullen said during an afternoon press conference.
Pro Publica reported that RAM has at least 50 members, some of whom have fought with their ideological opponents in the California cities of Huntington Beach, San Bernardino, and Berkeley, in addition to those who fought in Charlottesville last year.
Earlier this year, the nonprofit media outlet, along with Frontline, identified members of RAM who participated in Unite the Right in the documentary series Documenting Hate: Charlottesville, which aired on Aug. 7.
The group posts YouTube videos of its members training in outdoor gyms and fighting in organized MMA events, in addition to promoting itself using white supremacist propaganda.
Charlottesville's Daily Progress newspaper reported at least 17 criminal cases have been brought against suspects connected with the Unite the Right rally.
Accused murderer and alleged neo-Nazi James Alex Fields Jr. is still waiting to be tried for allegedly driving his car through a crowd of anti-racist protesters, killing 32-year-old Heather Heyer on Aug. 12, 2017.
"These guys came to Charlottesville in order to commit violent acts," Cullen said of the four arrested RAM members. "And it wasn't the first time that they've done it."