Why is YouTube allowing violent, white supremacists and racist terror groups to spread propaganda?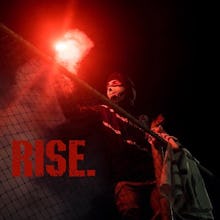 Since 2016, members of the Rise Above Movement, a violent alt-right group, have routinely engaged in bloody brawls in California cities like Huntington Beach and Berkeley, as part of an organized, militant campaign against their ideological foes, most notably antifa.
Over the years, R.A.M. has filmed the fights they started and used them as propaganda on YouTube, according to a comprehensive report published by ProPublica. The group's YouTube channel stayed up for months, operating under the video streaming site's radar without being deleted... until Tuesday.
That's when U.S. attorney Thomas Cullen announced that the four R.A.M. members who participated in the Charlottesville Unite the Right rally were being charged with violating the Riots Act.
"These guys came to Charlottesville in order to commit violent acts," Cullen told reporters. "And it wasn't the first time that they've done it."
YouTube is currently home to many white nationalist and white supremacist vloggers who, like R.A.M., have participated in well-documented public acts of violence. Many of these YouTubers routinely post racist propaganda that seems to violate the company's policies on hate speech or promoting terrorism.
YouTube's censorship of R.A.M. raises the question: Why was R.A.M.'s channel able to remain on the streaming site for so long? And If R.A.M. has been booted for either hate speech or promoting terrorism, why hasn't YouTube booted other alt-right extremists for doing the same?
"YouTube is a platform where anyone can have a voice and post videos to a global audience, subject to our Community Guidelines, which we enforce rigorously," a YouTube spokesman wrote in an emailed statement Thursday morning. "We take hate speech on YouTube very seriously and we're always working to improve how we flag, review, and remove this content more quickly."
It appears the company's hate speech screeners still need a lot of fine tuning.
R.A.M.'s YouTube channel was just one of many overtly white nationalist pages on the streaming site that seem to routinely violate the company's rules.
YouTube is owned by Google. The sites' joint hate speech guidelines read as follows:
We encourage free speech and try to defend your right to express unpopular points of view, but we don't permit hate speech. Our products are platforms for free expression. But we don't support content that promotes or condones violence against individuals or groups based on race or ethnic origin, religion, disability, gender, age, nationality, veteran status, or sexual orientation/gender identity, or whose primary purpose is inciting hatred on the basis of these core characteristics. This can be a delicate balancing act, but if the primary purpose is to attack a protected group, the content crosses the line.
YouTube and Google's policy on terrorist content says:
We do not permit terrorist organizations to use YouTube for any purpose, including recruitment. YouTube also strictly prohibits content related to terrorism, such as content that promotes terrorist acts, incites violence, or celebrates terrorist attacks. 
Within hours of Cullen's press conference Tuesday, YouTube administrators deactivated R.A.M.'s channel, but as of Thursday morning, at least one of the group's propaganda videos is still active on a separate page posted by a white supremacist rock band called Blink 1488.
Other Blink 1488 songs found on YouTube include "The Death Squad."
"Hangin' out with the squad on the weekend, havin' fun shooting these commies with my best friends," the band sings, parodying Blink 182, as images of swastikas, Adolf Hitler and Nazis appear in the background.
There's also "7+7," a possible reference to the "14 words" motto of white supremacists, and, of course, "The Jew." Here are the lyrics for that song:
"Hello there/ I am a banker's nightmare/ I care not for the boundaries they create/ In this world we're all victims/ of rabbis in the alley spraying swastikas on windows that they own/ As if we don't know who is/ behind this global meltdown... It's the Jew. It's the Jew."
YouTube is keenly aware of this kind of messaging.
Before many of these videos play, the site gives viewers an "offensive content" warning, requiring them to click a message indicating "I understand and wish to proceed."
"The following content has been identified by the YouTube community as inappropriate or offensive to some audiences," the warning label reads.
YouTube's ads are disabled on these videos. The site's recommended videos menu, which normally displays to the right of all YouTube videos, is grayed out. The comments section is inactive.
"In response to user reports, we have disabled some features, such as comments, sharing and suggested videos, because this video contains content that may be inappropriate or offensive to some audiences," another warning label below the video reads.
Unfortunately, R.A.M. and Blink 1488 are not YouTube anomalies.
ProPublica reports that some of R.A.M.'s propaganda videos were shot and promoted by alt-right YouTuber Vincent James Foxx, who runs a channel called Red Elephants where he talks about issues like America's demographics war and promotes anti-semitism.
Foxx, who's also on Twitter, participated in violent protests alongside R.A.M. as the group's "unofficial propagandist," according to ProPublica.
"After the Huntington Beach brawls, which he attended and filmed, Foxx put together a nearly 10-minute video glorifying [R.A.M.'s] fighting abilities and uploaded it to YouTube, where it has garnered 174,000 views to date," ProPublica journalists A.C. Thompson, Ali Winston and Darwin Bond Graham wrote in one of their "Documenting Hate" reports.
Joining R.A.M in 2017 streets fights was at least one violent leader of the white identitarian group known as Identity Evropa, which has its own Twitter profile and YouTube channel where it promotes its xenophobic, pro-white ethno state worldview.
The group describes itself as "non-violent," but its founder, Nathan Domigo, was arrested in Charlottesville last year after he helped organize and participated in the deadly Unite the Right rally. Domigo was also infamously caught on camera punching a female antifascist protester during the so-called Battle of Berkeley II on April 1, 2017, where alt-right, alt-lite, and other pro-Trump demonstrators duked it out with antifascist demonstrators for the second time in roughly a month.
Identity Evropa members have participated in CPAC, the Conservative Political Action Conference, and promote the political views of right-wing pundits like Joe Walsh and Ann Coulter.
The group persistently recruits new members by posting flyers on college campuses across the country. They host a regular podcast on YouTube where they also post videos praising Immigration and Customs Enforcement agents, sliding them propaganda leaflets with a cute, young white girl holding an American flag.
"Thank you for all that you do for our country," the flyer in the video reads.
Several of these hate-promoting YouTubers are members of the Alternative Influencers Network, which was cited in a recent Data & Society study about how YouTube helps radicalize far-right individuals.
In April, YouTube announced it had deleted 5 million videos from its servers for violating its terms of service policies, according to Reuters. In June 2017, the company unveiled its plan to fight terrorist radicalization on its platform after reports of Islamic extremists radicalizing Muslims in Europe on YouTube were published.
Since 9/11, white supremacists and other anti-government extremists have carried out more terrorist attacks on U.S. soil than radical Muslims, according to a 2017 Government Accountability Office report.
Emanuel A.M.E. church mass shooter Dylan Roof was radicalized online. White supremacists committed at least four terror attacks, killing four people in the U.S. in 2017. Radical Islamic terrorists committed one terror attack in the U.S. last year, killing eight people.
Recently, Identity Evropa activists hung one of their banners in New York City and spray painted their insignia in a tunnel at North Carolina State University.
In addition to R.A.M. and IE, YouTube hosts a channel for American Renaissance, a self-identifying white nationalist organization that supports racial segregation in the U.S. and Europe and promotes race realism — a pseudo-scientific theory held by white supremacists that purports certain races are inherently intellectually inferior to others.
There's also the America First channel with white nationalist Nick Fuentes, who wants to kill "globalists," a common white supremacist code word for Jews.
"Who runs the media? Globalists," Fuentes says in a video commemorating the one-year anniversary of his America First YouTube channel. "Time to kill the globalists," Fuentes continues. "I don't want to not watch CNN. I don't want them to go out of business... I want people who run CNN to be arrested and deported or hanged."
Charlottesville demonstrator James Allsup doesn't promote violence on his own YouTube channel, but he did participate in the Unite The Right rally and posts videos promoting race science.
"I would accept global warming if you guys accepted race and IQ," Allsup tells a white college student in one of his videos, characterizing as "settled science" the well-debunked theory that a person's race determines the limits of their intellectual capacity.
"I want to protect my country's historical demographics," Allsup added. "I think if you asked the average Japanese person, they would say the same thing."
(The Allsup video in question was taken down early Thursday morning.)
There are wide inconsistencies in tolerating hate speech across platforms. American Renaissance talking head Jared Taylor was kicked off Twitter last year, but routinely posts videos on YouTube. Canadian white nationalist YouTuber Lauren Southern is still active on Twitter and YouTube, but was booted from the artist website Patreon last year after she tagged along with the European alt-right activist group Generation Identity when its members rented a boat and tried to help stop African migrants from crossing the Mediterranean Sea into Europe.
Patreon argued that it didn't want to fund Southern because her activities were potentially putting people's lives at risk.
"It appears you are currently raising funds in order to take part in activities that are likely to cause loss of life. We have therefore decided to remove your page," Patreon wrote in a message to Southern.
Unite the Right demonstrator Dan Kleve runs a straightforward YouTube channel called Nebraska Alt-Right. Kleve joined the white supremacist group Vanguard America in Charlottesville a year ago, where members of the organization allegedly assaulted DeAndre Harris in a parking garage.
Antifascist activists at the University of Nebraska-Lincoln tried to get Kleve expelled from the college earlier this year after finding a Google livestream of him expressing that he wants to commit acts of violence.
"Just because I dress like a normie, a presentable person, doesn't mean that I don't love violence," Kleve said in one of the Google Hangout videos leaked by Antifa Nebraska. "I want to be violent. Trust me. Really violent," he continued. "It's just not the right time. We need to build ourselves up. We need to be disciplined. We need to train ourselves and make ourselves hard ... so that when the time comes, we can do what needs to be done."
Many of these alt-right activists have been booted from Twitter, GoFundMe, PayPal and other sites for various violations related to hate speech and promoting violence. Yet somehow YouTube and its parent company Google allow them to operate on their servers.
The Anti-Defamation League says YouTube's current process of removing content from extremist groups "isn't a sustainable solution and doesn't get to the root of the problem."
"We want bigger changes from the platforms in order to address the real and critical problem of hate online," Joanna Mendelson, senior investigative researcher for the ADL's Center on Extremism, said during a recent phone interview. "To do this, we need greater transparency from the companies about the nature of the problem to allow for comprehensive study, and we need companies like YouTube to have more external accountability."
Oct. 4, 2018, 10:13 a.m.: This story has been updated.