The Week in Sports and Social Justice: LeBron James wears Kap shirt; HBO takes on NCAA exploitation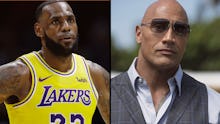 Welcome to Mic's new weekly roundup of news coverage related to activism in the world of sports, both on and off the field. Check us out every week for a summary of the latest headlines covering the intersection of sports and social justice issues.
Let's get into it.
LeBron James wears Kaepernick shirt to Lakers' pre-season game
Before taking the Staples Center court in the Los Angeles Lakers' signature purple and gold Thursday, NBA star LeBron James was photographed in the locker room wearing one of Nike and Colin Kaepernick's #ImWithKap T-shirts.
"I wore a Kaepernick shirt tonight 1.) because it's Nike," James told reporters Thursday. "I mean, I'm a Nike guy, and then 2.) I support Kap, I've always supported Kap and what he stands for and what he believes in. So obviously you guys have seen it, [the] global spot Nike was able to put out not too long ago where he was the face of it, and I was happy to be a part of it, so I'm in support of him."
Kaepernick, of course, is the former San Francisco 49ers quarterback who remains unsigned after becoming a free agent at the end of the 2016 NFL season. Nike unveiled its new ad campaign starring Kaepernick in September; the company's sales have been up since Kaepernick announced the deal on Twitter.
Student Athlete tells college sports stories the NCAA doesn't want you to see
Many people characterize the NCAA's treatment of student-athletes as a form of modern-day slavery. This week, you can add James and Dwayne "The Rock" Johnson to that list.
Both are working on HBO shows that are highly critical of the NCAA's football and basketball programs, which make millions every year off predominantly black and brown athletes without paying them a dime.
James co-produces the new HBO documentary Student Athlete, which tells the stories of four young men at different phases of their collegiate athletic careers. Subject Nick Richards is a sophomore playing basketball at the University of Kentucky. Silas Nacita, meanwhile, was homeless before becoming a running back at Baylor University. In 2015, the NCAA declared Nacita permanently ineligible for receiving "improper benefits," including housing.
Mike Shaw, another subject of the documentary, was a four-star basketball recruit at Illinois from the South Side of Chicago whose college career was cut short due to recurring injuries. Shamar Graves played football at Rutgers University, but was denied a fifth year of eligibility and has since been working odd jobs while fighting to keep his professional sports prospects alive.
Dwayne Johnson tries and fails to open a can of whoop-ass on the NCAA
Sunday is the season four finale of HBO's Ballers, a show known more for off-the-field glitz and glamour than social consciousness. But the series took a surprising and notably woke turn this summer.
In the season's penultimate episode, free agent veteran wide receiver Ricky Jerret (John David Washington) tells off his pro-Trump wealthy neighbors, unsubtly surnamed "the Whites," after they heckle him at an outdoor party for his support of NFL players who kneel in protest during the national anthem. Los Angeles Rams general manager Charles Greane (Omar Benson Miller) struggles to decide whether to sign Jarret, his friend and former teammate.
Meanwhile, Johnson's character, Spencer Strasmore, is a man on a mission of revenge. He's a former pro footballer-turned-financial-manager for athletes; his older brother committed suicide over a decade ago after the NCAA declared him ineligible and ended his playing days at UCLA. The ghost of Strasmore's brother still haunts Spencer, who's avoided SoCal ever since. But Spencer visits his brother's grave for the first time in years and curses him in episode two. He's later forced to confront his demons when his business partner, Joe Krutel (Rob Corddry), secures a deal to start an extreme sports division of their company near the sunny beaches of metro LA.
Athletes talented and fortunate enough to be awarded full scholarships receive free education, room, and board at some of the nation's top colleges and universities. But many find it difficult to focus on academics when practicing and competing in their chosen sport take up so much of their time.
Only a select few will go on to play in the NFL or the NBA. For most, becoming a college sports star will be the pinnacle of their athletic careers — yet players can be penalized, even kicked off teams, if they try to profit from their fleeting marketability. As a result, some players finish college virtually penniless with diminished career prospects outside of sports, all while coaches and school administrators earn millions of dollars a year.
It's a controversial topic almost as old as college sports itself, but Johnson and HBO take it head-on.
Will Eric Reid kneel for the national anthem?
Former San Francisco 49ers safety Eric Reid will suit up for the Carolina Panthers for the first time Sunday after being signed to the team last week.
Reid took a knee for his former team's pre-game national anthem throughout the 2016 NFL season, protesting against police brutality and racism alongside Kaepernick.
Reid continued to kneel throughout the 2017 season after Kaepernick left the team. In 2018, the former Pro Bowler went unsigned during the NFL off-season after becoming a free agent, despite being a standout defensive back on the 49ers roster. He and Kaepernick filed a joint lawsuit against the NFL for allegedly colluding to blackball both men from being signed to new teams as payback for their peaceful protests.
In his introductory press conference Monday, Reid declined to say whether he would kneel for the national anthem this season. He told reporters the Panthers never asked him about his protest plans.
"I said that I would be considering other ways [to advocate for justice], and I'm still considering," Reid said.
As for the lawsuit, the Panthers safety said he still plans to proceed with it.
"Without a doubt. Yes," he said.