Taylor Swift's conservative fans are mad about her endorsement of Tennessee Democrats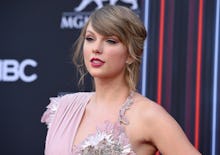 Taylor Swift went from being the beloved, wholesome sweetheart of middle America to just another celebrity maligned in conservative circles on Sunday after she denounced racism while endorsing Democrats.
In a rare political turn, Swift posted on Instagram on Sunday her endorsements of Phil Bredesen and Jim Cooper in Tennessee. Those endorsements didn't sit well with many of Swift's conservative fans, including pro-Trump pundit Charlie Kirk, founder of the conservative nonprofit Turning Point USA.
"You have absolutely no idea what you are talking about," Kirk said of Swift on Twitter on Sunday night. "Your career has never recovered since Kanye West ended it."
Kirk continued bashing Swift on Fox and Friends on Monday morning.
"This is what I love about Taylor Swift is she used to stay away from politics," Kirk told Fox and Friends host Steve Doocy. "She was just all about music, all about female empowerment. ... Look, Taylor Swift, I love your music. Personally, Kanye West, I'm a bigger fan of his. I wish you would have not done this."
Former Arkansas Gov. Mike Huckabee dismissed Swift's endorsement as well.
Swift "has every right to be political, but it won't impact election unless we allow 13 yr old girls to vote," Huckabee tweeted Monday morning.
Fellow Fox News pundit Tomi Lahren maintained her position that celebrities' opinions don't matter. Lahren previously denounced conservatives' embrace of Kanye West after he came out in support of President Donald Trump in April.
"Let's be clear," Lahren tweeted late Sunday night. "I'm not with Taylor and I'm not with Kanye. I'm not for celebrities that pop off sh*t they don't understand. Period."
Swift was once the darling of the alt-right, but many 4chan users are characterizing her as a "traitor."
"They took her from us and turned her into one of their brain dead zombies," one anonymous 4chan user posted Monday morning.
"This is Soros trying to blue pill us by kidnapping our princess," another said.
Swift has notoriously stayed out of the political fray throughout her career unlike many of her progressive pop star peers. Bredesen, the candidate she endorsed, trailed his opponent Blackburn by 8 points in a recent CBS News poll.
Tuesday marks the voter registration deadline for Tennesseans to vote in the November midterm elections.