Tamir Rice's mom to lead a protest in Ohio town where police officer who killed her son was hired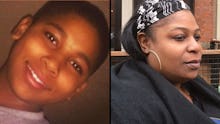 Samaria Rice, mother of the late Tamir Rice, plans to travel to Bellaire, Ohio, this week to protest the recent hiring of the police officer who fatally shot her son nearly four years ago. Bellaire police Chief Richard Flanagan announced Friday that he'd hired former Cleveland police Officer Timothy Loehmann, who was never officially charged for the fatal shooting of Rice.
Tamir Rice was 12 years old when he was shot and killed by Loehmann on Nov. 22, 2014. Surveillance video showed Loehmann and fellow Officer Frank Garmback declining to aid Tamir as he bled out on the ground after Loehmann shot him. Rice's then-teenage sister, Tajai Rice, was tackled and handcuffed by Loehmann and Garmback when she rushed to her brother. It took almost three years for Cleveland police to fire Loehmann in May 2017, not for the shooting of Rice, but for failing to disclose on his job application how and why he parted ways with his previous employer.
"I plan to go down to Bellaire to have a conversation with that police department and say, 'You guys are making a big mistake,'" Samaria Rice told Mic by phone Monday morning.
The mother-turned-activist's supporters have launched a social media campaign asking people to call Flanagan and demand the southeast Ohio village rescind Loehmann's job offer. LaTonya Goldsby, who is Tamir Rice's cousin and a leader of Cleveland's Black Lives Matter chapter, said the organization is reaching out to black community leaders in and near Bellaire to try and get them to participate in the protest.
"Police unions, police chiefs and police departments will always side with police," Goldsby said in an interview. "We have to stay vigilant in our communities and others so that police officers like Timothy Loehmann don't continue to get employment in other cities after they have committed murder in another."
Flanagan told the Times Leader on Friday that he had no reservations about hiring Loehmann despite his past. The Bellaire Police Department did not immediately return calls for comment.
"He was cleared of any and all wrongdoing," Flanagan said of Loehmann, according to the Times Leader. "He was never charged. It's over and done with."
Samaria Rice said she fears Loehmann's proven incompetence as an officer puts the safety of Bellaire residents at risk.
"He is emotionally unstable and mentally unstable," Rice said of Loehmann. "Anytime your mother has to come and get you off a gun range, you are a problem. I think that town and that police department are going to be in danger."
Rice isn't the only person to express concern about Loehmann. It wasn't until after Loehmann fatally shot Samaria's son that Cleveland police learned he was forced to resign from his old position with the police department in Independence, Ohio, after he was declared unfit to work in law enforcement.
An Independence police memo in November 2012 said Loehmann had an "emotional breakdown" during his then-recent firearms qualifications exam. Administrators described Loehmann's performance during the handgun training test as "dismal," adding that he was "distracted" and "weepy."
Independence deputy police chief Jim Polak noted in Loehmann's personnel file that the officer had a previous emotional breakdown during a summer 2012 training session, adding that he "could not follow simple directions, could not communicate clear thoughts nor recollections," in a letter recommending his termination.
"I do not believe time, nor training, will be able to change or correct the deficiencies," Polak wrote, according to the Cleveland Plain-Dealer.
Still, Loehmann was allowed to resign to avoid being fired from the Independence Police Department in December 2012 even though he'd also proven to be incompetent in a series of incidents leading up to his resignation. Loehmann failed to tell Cleveland police that he'd failed a 2009 written exam in applying for a law enforcement job with the police department in Maple Heights, Ohio.
Loehmann's father, Fred Loehmann, told the Plain-Dealer that his son left Independence because "he soon grew tired of the slow pace of suburban policing."
Cleveland police officially hired Loehmann in March 2014. CPD never reviewed Loehmann's Independence personnel file before hiring him because IPD's human resources department told CPD that Loehmann had no official disciplinary actions taken against him, the Plain-Dealer reported.
Samaria Rice has spent the last 10 months doing everything she could to prevent Loehmann from getting his job back in Cleveland after he filed a union grievance in January. Rice said she thinks Loehmann's new part-time job in Bellaire is just a step toward ultimately getting him his old job back in Cleveland.
"They're fighting hard to get him back in Cleveland," she said.
Rice said she "went into a state of shock and numbness" after hearing on Friday that the man who killed her son has been hired by another police force.
"I fell to my knees," Rice said. "I just had to hold myself and call on the Lord. I'm still in shock right now ... my youngest daughter fell out. My oldest daughter was crying. I have an angry son who was not happy. I'm very hurt and upset about that situation."
The city of Cleveland initially tried to sue Rice for her son's unpaid ambulance bill in 2016 before Cleveland Mayor Frank Jackson apologized and dropped the lawsuit.
"How many times does a family have to keep being re-traumatized?" Rice said.