Samsung's new phone has more camera lenses than buttons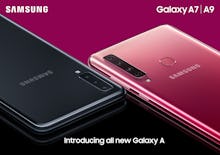 In the early 2000s, technology enthusiasts questioned the point of the camera phone. "Do we have to marry every different kind of gadget with another one," we once said. Now it's 2018, and phones have more cameras on them than buttons — at least that's the case with a new Samsung Galaxy phone.
Samsung announced on Thursday its Galaxy mid-range device. The new phone will offer a 6.3-inch screen, 128GB of storage and run Android. Most notably, however, there are a total of five camera lenses on the new phone. The face of the device has one camera. The back? Four.
Samsung touts its rear camera setup as "the world's first rear quad camera."
Each camera specializes in a specific type of photography. One lens, for example, gives the phone 2x optical zoom, for better looking close-up photos. Another camera offers an ultra-wide lens for wide shots. A depth lens on the back allows for better depth of field. The phone's main lens is a 24 megapixel shooter.
Samsung's choice to put five camera lenses on a phone isn't out of line with the direction of many other smartphone makers. Apple recently announced top-shelf phones — iPhone XS and XS Max — that both have three cameras, two on the back and one on the front. Google's recently announced Pixel 3 offers the same number of lenses, but with one on the back and two on the front.
Perhaps with five camera lenses, Samsung has found the best way to shutter the competition.