Missouri woman is fired after trying to stop a black man from entering his own apartment complex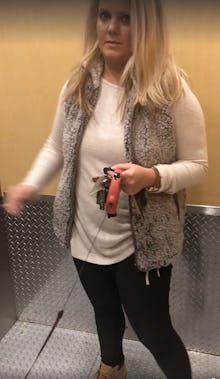 The St. Louis woman who tried to prevent a black man from walking into his apartment complex over the weekend is now out of a job.
D'Arreion Toles' viral video of his encounter with Hilary Brooke Mueller was enough to convince her minority-owned employer Tribeca-STL to fire her almost immediately, according to KMOV.
Toles, a 24-year-old entrepreneur from Chicago, was arriving home from work to his downtown St. Louis luxury loft late Friday when Mueller stood in the doorway of his apartment complex and asked him to prove he actually lived there.
"Can you please move, ma'am?" Toles says in the video, which has been viewed more than 5 million times since Friday.
"I can," Mueller replies. "Do you live here?"
"I already answered that question, excuse me," Toles responds.
"I'm sorry, the keypad is right there," Mueller says while remaining in the doorway.
"You're blocking me [from entering]," Toles says.
"Into my building," Mueller answers.
"And it's my building as well," Toles replies.
"OK, what unit?" Mueller asks.
"I don't need to tell you that information, so excuse me, ma'am," Toles answers.
"I'm uncomfortable," Mueller says.
"You can be uncomfortable," Toles says. "That's your discretion. You're uncomfortable because of you. I need you to move out of my way, please."
Toles eventually maneuvered past Mueller, who followed him into an elevator and up to his apartment door, where she watched him open it before leaving. About 30 minutes later, police showed up to Toles' apartment anyway, but no charges or citations were issued, according to KMOV.
"I was kind of blown away, shocked and like, wow," Toles told the local news station. "I am just glad I had my camera out. If I did not have my camera out, I feel it could have gone a totally different way."
Mueller's former employer Tribeca-STL wasn't pleased with her actions, even though they took place off the clock at a private residence that the company said it doesn't own or manage.
"Tribeca-STL is a minority-owned company that consists of employees and residents from many racial backgrounds," the company said in a written statement. "We are proud of this fact and do not, and never will, stand for racism or racial profiling at our company. After a review of the matter the employee has been terminated and is no longer with our company. At Tribeca-STL we want all residents, guests and visitors to feel welcome, safe and respected."
In a Facebook post Saturday evening, Toles thanked his supporters who have been posting hundreds of comments of encouragement. In a recent news interview posted on Toles' Facebook page, he said hundreds of people have messaged him complimenting him for keeping his cool throughout the encounter. Some parents told Toles they're using the video as a teachable moment for their children.
"We've seen what happened in Dallas," Toles said, likely referencing the police shooting death of Botham Jean, who was killed by an off-duty officer in his own home after the officer mistook Jean's home for hers and shot him, thinking he was an intruder.
"The camera to me as a black man in this world is just my protection. The focus should be the resolution. Certain shit shouldn't just be happening. It's sad that it does."