Three more Proud Boys arrested for New York City brawl, charged with rioting, misdemeanor assault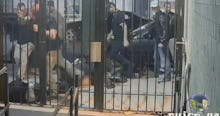 Three more members of the Proud Boys group that beat protesters outside the Metropolitan Republican Club in New York City on Oct. 12 were arraigned in criminal court late Monday night, the Huffington Post reported.
Irvin Antillon, 41, of Queens, New York; Douglas Lennan, 40, of Northport, Long Island; and Maxwell Hare, 26, of Harrisburg, Pennsylvania, were all charged with riot and misdemeanor assault, according to an email from the Manhattan District Attorney's Office. Hare received additional charges for possession of a weapon and gang assault. Two other Proud Boy members, Geoffrey Young, 38, and Jay Kinsman, 39, were arrested Thursday and Friday, respectively, CBS News reported.
Antillon is a member of a Latino skinhead group known as Batallon 49, aka B49, according to the Southern Poverty Law Center. He was also one of multiple Proud Boys who participated in the deadly Unite the Right rally in Charlottesville, Virginia, in August 2017, the SPLC reported.
New York City police have apprehended five of the nine Proud Boy members authorities said were involved in the Oct. 12 street brawl. The SPLC has identified two of the remaining at-large Proud Boy assailants as Joe Bola (which the SPLC says is an online alias) and Dennis Davila. The Alabama-based hate group watchdog says Davila runs a "hate music company" called United Riot Records. Both Davila and Bola are also members of a New York-based skinhead group called the 211 Bootboys.
"The crew has often shared space with neo-Nazi racist skinheads, most frequently at hate music shows," the SPLC says of the Bootboys.
Proud Boys members were leaving the Metropolitan Republican Club after attending a speaking event led by Proud Boys founder Gavin McInnes on Oct. 12 when they clashed with a group of protesters who were demonstrating outside of the event.
New York City police were on the scene that night to keep protesters and McInnes' followers separated during the speaking event. Authorities said the scuffle started a couple blocks away from the venue when one of multiple masked demonstrators threw something at the Proud Boys.
"They throw an object believed to be a bottle, and now a fight ensues," NYPD Chief of Detectives Dermot Shea said during an Oct. 15 press conference while narrating a video of the incident. "You see violence there, kicking. I'll tell you that it's approximately 38 seconds between when the six dressed in black with masks throw that bottle to the uniformed officers arrive on the scene with the scooters."
At least one of the violent conservative group's members was caught on camera yelling "faggot" while he and others pummeled three masked demonstrators who were curled up on the sidewalk, according to ThinkProgress.
Police released surveillance video of the incident captured from a building camera. The video shows the faces of several attackers.
Police who responded to the scene arrested three of the demonstrators involved in a second incident a few blocks away, but didn't arrest any of the attackers involved in the melee. A transcript of body-camera audio of the incident indicated officers asked witnesses for details that could help them track down the attackers, but they refused to cooperate, according to the Daily Beast.
NYPD officials were criticized for not arresting any of the Proud Boys in the aftermath of the attack. On Oct. 14, two days after the incident, Gov. Andrew Cuomo joined New York City public advocate Letitia James in calling for a hate-crime investigation.
"These vile acts of racism, division and discrimination are repugnant to American values, and have no place in our state," Cuomo said in a press release. "Why did this club invite the Proud Boys, a hate group with a history of inciting violence? Do you believe they have a positive contribution to the political dialogue at this time?"
James called the Proud Boys "white supremacists" and the incident "hate-fueled mob violence."
"New York will not become the next Charlottesville, and we refuse to let the actions of a hateful few define our city," she said in a statement.