NYC police killed Saheed Vassell in April. His dad wants to know why no one's been disciplined.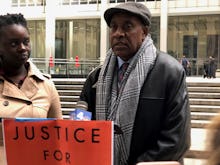 NEW YORK CITY — It's been six months since New York City police killed Saheed Vassell in the streets of Brooklyn, New York and none of the officers involved in his death have been reprimanded in any way.
Saheed's father, Eric Vassell, didn't think that would change Tuesday morning when he met with New York State Attorney General Barbara Underwood in lower Manhattan to discuss possible charges against his son's killers, but he said he was hopeful nonetheless.
"At this time, they won't tell us when they will come to a decision," Vassell said of his conversation with the attorney general's office.
On April 4, Saheed Vassell, 34, who had been diagnosed with bipolar disorder, was seen pointing what turned out to be a metal pipe at pedestrians while walking through the streets of his Crown Heights neighborhood in Brooklyn before someone called police. The four officers who responded to the scene opened fire on the West Indian man within seconds of arriving.
Vassell's homicide enraged local activists, who were commemorating the 50th anniversary of Martin Luther King Jr.'s assassination the same day while simultaneously staging demonstrations against the police shooting death of Stephon Clark, which took place less than three weeks earlier in Sacramento, California.
The New York Police Department declined to release the names of the officers who shot Vassell, but officers Leon Dinham, Anthony Bottiglieri, Bekim Molic, and Omar Rafiq were leaked to the press in July. None of the officers have been disciplined in any way or even put on modified desk duty for their fatal encounter, according to Eric Vassell.
On Tuesday, Vassell, 64, said he fears his son's death is being swept under the rug by government officials, much like the police chokehold death of Eric Garner, whose killer hasn't been disciplined by the NYPD after more than four years of investigation and delays.
Earlier in July, Vassell stood with Garner's mother, Gwen Carr, on the steps of New York City Hall, where she once again demanded accountability for her son's killers on the four-year anniversary of his death.
"This is the tactics of the NYPD to just [let] the families suffer for years and years and years," Vassell told reporters Tuesday at a press conference. "I've seen them do that. They do all types of things to cause us to break down. It's a game that they keep on playing with us over and over, wanting us to believe they'll do good.
"But when it comes to people of color, they see us as minorities and because we do not have no power, they keep on spinning us over and over."
Even supporters acknowledge that Saheed Vassell had mental health issues and appeared to be pointing a gun at people in public, which would give police cause to be more cautious in dealing with him.
But Anthonine Pierre, deputy director of the Brooklyn Movement Center, which has been advising Saheed Vassell's family since his death, says police didn't have to kill him, and in the aftermath of the elderly Deborah Danner's death two years ago, NYPD officers should be better trained to deal with individuals with mental illnesses.
"They've put forth no new processes, they've put forth no learnings from the situation," Pierre said of the NYPD in the wake of Vassell's death. "They're [telling] the public that if a person is in some kind of emotional distress or crisis on a New York City street, that the only option will be that the NYPD will come and they will kill them in broad daylight. We have to ask ourselves as New Yorkers, is that how we want the New York City government, our mayor, to be dealing with people in an emotional crisis and distress?"
New York City Mayor Bill De Blasio's office points out the city allocated $850 million over four years to start ThriveNYC, a 54-program initiative to provide better mental health resources to New Yorkers who need it beginning in 2015.
The mayor's wife, Chirlane McCray announced she was "resetting" that program earlier this year in the aftermath of Vassell's shooting death. The city's new mental health policies allow them to use legal authority invoked through a controversial measure known as Kendra's Law to require potentially dangerous mentally ill individuals to accept treatment in exchange for being released from mental health facilities.
"We've expanded the use of Kendra's Law, and giving our officers crisis intervention training for the first time ever," De Blasio Deputy Press Secretary Olivia Lapeyrolerie said via email. "The Mayor's Task Force is looking for ways to further improve our response system and prevent these crises from happening."
Oct. 17, 2018, 11:57 a.m.: This story has been updated.