Cobb County police, mall manager defend actions after viral video of incident with rapper Corey J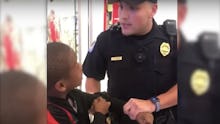 The general manager of the metro Atlanta mall where local police arrested a 12-year-old black rapper for selling his own CDs said the mall was just enforcing the rules when it called law enforcement on the child.
Video showing rapper Corey Jackson, aka Corey J. and Lil' C-Note, being grabbed by a Cobb County police officer Oct. 13 at Cumberland Mall went viral over the weekend. The adolescent lyricist — who appeared on The Ellen DeGeneres Show in March 2017 — and his aunt, Coraletha Jackson, face charges of felony obstruction and misdemeanor criminal trespass, among others. Supporters led a protest Wednesday inside the mall.
Mall administrators said Corey had been warned previously not to sell CDs inside the mall, which it considers criminal trespassing. Cumberland Mall general manager Chris McCoy said third-party solicitors must sign agreements with the mall in advance.
"The general policy is no solicitation of any type on the property," McCoy said in a phone interview Wednesday.
Video of the incident, which has been viewed more than 190,000 times on Instagram, shows an unidentified Cobb County officer grabbing Jackson's arm and shoulder. A woman identified as Jackson's aunt films the encounter while speaking to the boy's father, whom she called Chase, on the phone.
During the video, Corey struggles briefly to free his arm from the officer's grasp as the officer radios for a warrant check.
"Stop," the officer tells him. "Listen. You're 12? Stop. You're about to go to jail. You're gonna go to a youth detention center if you don't stop."
"He's not doing anything," Jackson's aunt says in the video. "He's got his rights and he's not even doing anything right now, sir. And have his father on the phone and you won't even speak to him."
The Cobb County Police Department opened an internal investigation into the incident after a vocal response from the community, according to WSB-TV. However, Police Chief Michael Register defended the officer's actions to local reporters.
"He was within his rights," Register said of the unidentified officer.