"I've got $5M worth of negative ads coming at me": Dave Brat tells incarcerated addicts his problems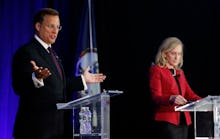 During a visit to Chesterfield County Jail in Virginia to speak with incarcerated drug users on Wednesday, Republican Rep. Dave Brat was quick to note that the inmates battling addiction weren't the only ones facing an uphill battle.
"You think you're having a hard time — I've got $5 million worth of negative ads coming at me, how do you think I'm feeling?" Brat told the crowd of the attacks he's had to parry from his Democratic opponent, Abigail Spanberger, who he's currently battling to represent Virginia's 7th Congressional District. "Nothing's easy. For anybody."
Audio of the off-color comment was captured by a reporter for local outlet WCVE News. At another point in the awkward exchange, Brat remarks, "You think I'm a congressman, 'Oh, life's easy, this guy's off having steaks every day.' Baloney," he continues. "I've got a daughter, she's got to deal with that crap on TV every day. So it's tough. No one out there's got some easy life. Right?"
Brat was at the jail to hear from inmates. During the visit, he advised them to "find some substitute for drugs — get exercise, or academics, reading books, going to the Bible."
In terms of policy, Brat said that while he supports criminal justice reform in a broad sense, he said that the federal government was "probably not the best tool to help people with mental health issues."
"You think you can send money up there and solve problems down here?" he asked.
On Monday night, Brat and Spanberger — who, according to the latest polls, are locked in a statistical dead heat for the Virginia house seat they're competing for — engaged in their first and likely last debate of the midterm season. Throughout the course of the night, Brat repeatedly knocked Spanberger for being a foot soldier of what he called the "Nancy Pelosi liberal agenda," criticizing, among other things, her calls for strengthening the public option on health care.
"We need more competition, not less," Brat said. "The last thing we need to do with pharmaceuticals is move toward Obamacare or a government takeover of health care."
And even off the debate stage, the race has gotten increasingly ruthless as it's worn on. In August, Spanberger accused a super PAC associated with House Speaker Paul Ryan of accessing her federal security clearance application from her time as a CIA operative and using the information contained within it to vet her background.
"I write as a former civil servant and as an American, in shock and anger, that you have tried to exploit my service to our country by exposing my most personal information in the name of politics," Spanberger wrote in a letter to the PAC.
The Spanberger campaign, meanwhile, was forced to issue an apology in early October after several teenaged canvassing volunteers left a note affixed to Brat's front door that read, "Rot in hell Dave :)".