Tamir Rice's mother reacts to new video of Ohio police berating black boys about carrying a BB gun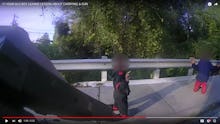 The Columbus Police Department thought it was teaching a valuable lesson Monday when it tweeted out bodycam video of an officer holding two black boys at gunpoint on Saturday for carrying what turned out to be a pellet gun.
"I could have killed you," Officer Peter Casuccio told unidentified 11- and 13-year-old youths in the video. The department tweeted the clip with the tagline "LESSON LEARNED."
"I want you to think about that tonight when you go to bed," the officer added later. "You could be gone. Everything you want to do in this life could've been over."
One of the boys apologized to the officer for carrying the BB gun.
"I'm so sorry," he said.
"You should be sorry," the officer replied. "And you should be scared."
Samaria Rice, mother of the late Tamir Rice, who was shot and killed by police in Cleveland, Ohio, for carrying a pellet gun, said she hadn't seen the Columbus police video until her sister shared it with her on Thursday.
She was disturbed by what she saw.
"You think you're saving the day because you didn't kill a black baby?" Rice said of Casuccio. "You don't get kudos for doing your job. It's actually not a lesson to be learned. Ohio is an open-carry state."
Rice's son isn't the only black person who had been killed for exercising his Second Amendment rights in the Buckeye State. John Crawford was fatally shot by police in a Beavercreek, Ohio, in 2014. He was carrying a pellet gun he was thinking about buying at a local Walmart. Someone who saw him carrying the weapon called police, who shot Crawford.
Rice said the Columbus Police Department bodycam video is disheartening, not refreshing, because it shows police proudly displaying a double standard about black men and boys in America who legally carry guns and toy guns.
"As a black parent, we shouldn't have to have these conversations," Rice said. "You can clearly see they're boys. You want to get a pat on your back for using your better judgment? You should have some compassion in your voice when you're speaking to children."
Later in the video, Casuccio can be heard speaking to the boys' mother after taking them home, telling her that after the officer held them at gunpoint and ordered them to their knees, one of the boys pulled the BB gun from his wasteband.
"I didn't know it was a BB gun until it hit the sidewalk," the officer told the mother. "Regardless of what people say about the dudes wearing this uniform, we care. The last thing I ever want to do is shoot an 11-year-old man."
Rice said the video is another example of police trying to promote positive relations with communities of color without actually doing the work to hold rogue officers more accountable.
"People try to paint this picture like the police are interacting with the community in a positive way," Rice said. "There's nothing positive about this situation."