This Week In Sports and Social Justice: Rihanna rejects Super Bowl over Kap; Smith, Carlos get props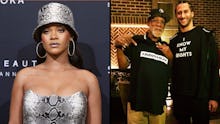 Welcome to Mic's new weekly roundup of news coverage related to activism in the world of sports, both on and off the field. Check us out every week for a summary of the latest headlines covering the intersection of sports and social justice issues.
Here's a quick round up.
Rihanna declines to perform at the Super Bowl in solidarity with Colin Kaepernick
The NFL's Colin Kaepernick controversy appears to be making it harder for League officials to find black musicians willing to perform at the Super Bowl halftime show.
Rihanna recently became the latest African-American artist to reject one of the world's biggest stages, according to US Weekly. An insider on RiRi's team said the nine-time Grammy winner and Fenty Beauty cosmetics founder declined the NFL's offer earlier this year because she "supports Colin Kaepernick."
"The NFL and CBS really wanted Rihanna to be next year's performer in Atlanta," the insider told US Weekly. "They offered it to her, but she said no because of the kneeling controversy. She doesn't agree with the NFL's stance."
RiRi isn't the only black musician to stiff arm the NFL over Kaepernick's alleged blackballing.
In the lyrics to Jay-Z and Beyoncé's hit song "Apeshit," Jay confirms he too said "no thanks" to a recent halftime show appearance. "I said no to the Super Bowl/ You need me, I don't need you," Jay raps on the song. "Every night we in the end zone/ Tell the NFL we in stadiums, too."
Jay-Z has also been a vocal supporter of Kaepernick. The instantly beloved video for "Apeshit" features a shot of young, black men taking a knee.
Beyoncé herself was the most recent black artist to perform at the Super Bowl, but she drew backlash from conservative fans in 2016 when she and her dancers donned Black Panther attire as they performed her socially conscious hit single "Formation."
Now, while Rihanna may have said no to the NFL, Maroon 5 has agreed to perform at the 2019 Super Bowl and rapper Cardi B may be joining them, according to TMZ.
Performing at the Super Bowl would be huge for Cardi, but she has also been a passionate advocate for Kaepernick getting signed to a new team.
"As long as you kneel for us, we're going to stand for you," Cardi said of Kap during the 2017 MTV Music Video Awards.
We'll find out soon if Rihanna's Super Bowl rejection compels Cardi to follow suit.
Kaepernick celebrates the legacy of Tommie Smith and John Carlos
Speaking of Kaepernick, the Nike pitch man was active on Twitter and Instagram Tuesday, posting pictures he took with 1968 Olympic medal winners Tommie Smith and John Carlos. This came in tandem with the 50th anniversary of the Smith's and Carlos' historic black power salute during the '68 Olympic games in Mexico City.
After winning gold and bronze medals respectively in the 200-meter sprint, Smith and Carlos famously raised their gloved black fists while standing on the Olympic podium during their medal ceremony.
Their symbolic protest took place six months after Martin Luther King Jr. was assassinated, which led to protests and riots amid months of elevated racial tension throughout the U.S. Today, both men are celebrated civil rights icons, but back then, they had their medals stripped by the U.S. Olympic Committee, which called their symbolic gesture a "discourtesy."
"Thank you Tommie Smith & John Carlos 4 the sacrifices you made on this day 50 yrs ago," Kaepernick tweeted Tuesday. "They have laid the foundation 4 the advancement of many others at their own personal expense & have done it gracefully & unapologetically! We will never be able 2 repay you 4 what you have done 4 us!"
USA gymnastics leader to resigns after backlash over Nike comments
Simone Biles' words carry a lot of weight in the world of sports, and they appear to have played a role in the recent departure of USA Gymnastics interim president and CEO Mary Bono.
The former U.S. congresswoman's tenure as the organization's top gymnastics official came to an abrupt end Tuesday after less than four days on the job. Her resignation came three days after Biles condemned Bono's disapproving tweet about Nike and its ad campaign starring you-know-who.
Bono was one of many Americans to chime in during calls for a Nike boycott in September. In response to the sports apparel giant's new Kaepernick-centric marketing, Bono tweeted a picture of herself blacking out a Nike logo on a golf shoe.
"Don't worry, it's not like we needed a smarter usa gymnastics president or any sponsors or anything," Biles tweeted in response to Bono's tweet.
The former congresswoman was also criticized for serving as Senior Vice President at the Faegre Baker Daniels LLP law firm, which represented convicted sexual predator Larry Nassar. Nassar was the U.S. gymnastics team doctor who was found guilty of molesting more than 160 women during his tenure with the U.S. Olympic team.
Biles said in January that she was one of Nassar's victims.
Bono said in her resignation letter on Tuesday that her disapproval of Kaepernick partly stemmed from the death of her brother-in-law, who was a U.S. Navy SEAL, and her related exception to the "sacrificing everything" line in the Kaepernick ad.
"It was an emotional reaction to the sponsor's use of that phrase that caused me to tweet, and I regret that at the time I did not better clarify things," Bono wrote. "[Keapernick] exercised his first amendment right to kneel. I exercised mine."
Michael Bennett helps kids battle obesity while awaiting his day in court
NowThis did a recent profile of Philadelphia Eagles defensive end Michael Bennett and his program combating childhood obesity.
Bennett's foundation provides free nutrition and exercise programs for underprivileged kids living in Hawaii, Washington and Texas. The Things That Make White People Uncomfortable author is one of a handful of NFL players who still protest racism and police brutality during pre-game National Anthem performances.
The former Pro-Bowler is still facing a controversial felony charge he received more than a year after allegedly assaulting two female stadium workers during the 2017 Super Bowl.
The charges were handed down by law enforcement officials in Houston after an NFL season in which Bennett protested during the National Anthem in solidarity with Kaepernick and condemned law enforcement officials in Las Vegas who held him at gunpoint and threatened to blow his head off.
Bennett was partying in a Las Vegas casino in August 2017 when Vegas police received a call warning that gunshots had been fired in the venue after a scuffle broke out among patrons on the second floor. The officers who responded to the scene had their guns drawn when they raided the place and found Bennett running outside in fear for his life.
Surveillance and body cam videos of the incident showed police taking Bennett down while at least one officer pointed a gun at his head. The city's police union demanded an apology from Bennett and asked the NFL to investigate him after he published an open letter about the ordeal in September. The athlete's criminal charges were issued seven months after that.
Bennett's criminal case was delayed once again on Wednesday. He is scheduled to appear in court again on Nov. 28.